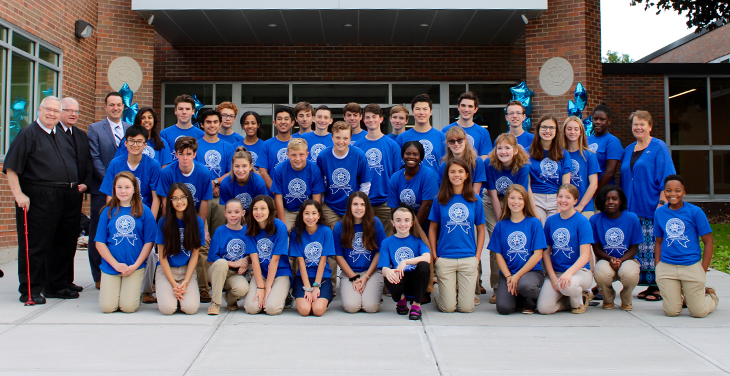 Founded: 1900
Grades: 7-12 (Co-educational)
Number of Students: 780+
Number of Faculty & Staff: 85
Student/Faculty Ratio: 12:1
Network of CBA Alumni: 7,500
Courses/Classes Offered: 116
AP Classes Offered: 25+
Graduation Rate: 100 %
Athletic Teams: 60+
Activities/Clubs: 45 +
Bands: 4 (Including Jazz Ensemble and String Orchestra)
Choirs: 4 (Including Jubilee and Select Chorus)
Dramas/Musicals: 3 (Including Jr. High Musical)
School Colors: Purple & Gold
Nickname: The Brothers
Notable
CBA was named a "National Blue Ribbon School of Excellence" in September 2019. One of only 50 private schools nationally and the only private school in New York State (2019).
---
Ranked as Best #1 Catholic High School in Upstate New York by Niche.com
---
Average standardized test scores are in the top 15% of all high schools in the country.
---
CBA students, on average, score 30 percentage points higher on the NYS Math and ELA exam, compared to students throughout New York Sate.
---
The average CBA student takes more than four AP courses preparing students for college and potentially earning college credit.
---
On average, approximately 150 college representatives visit the CBA campus and recruit students to their college or university each year.
---
Comprehensive SAT prep program is offered to students including the full administration of a version of the PSAT exam in the 8th, 9th, 10th and 11th grade.
---
Class of 2023 Profile   
100% of our seniors were accepted into a four-year school. Students are attending colleges and universities such as:
University of Notre Dame
Columbia University
Princeton University
Stanford University
Cornell University
Colgate University
University of California-Los Angeles
Clarkson University
Fordham University
Villanova University
University of Albany
Colorado State University
University of Virginia
Penn State University
Boston University
Clemson University
Texas Christian University
Syracuse University
Le Moyne College
---
Sravan Kodali (Stanford University) was awarded a Cameron Impact Scholarship. The Cameron Impact Scholarship is a four-year, full-tuition, merit-based undergraduate scholarship awarded annually to the top 10-15 exceptional high school students who have demonstrated excellence in academics, extracurricular activities, leadership and community service.
Kodali and Logan Roueche (Lehigh University) were recognized as National Merit Semifinalists.
Luke DeLorenzo (Purdue University); Finn Doyle (Princeton University); Hana Kang (Cornell University); Anna Kelly (George Washington University); Mark Khairallah, (Hamilton College); Blake Savage (Cornell University); Mary Sullivan (University of Notre Dame) and Lukas Ward (University of Pittsburgh) were recognized as National Merit Commended Students.
Nine students were accepted to Ivy League Schools; Six students will be attending Ivy League schools in the fall including: Ben Carrick, Hana Kang and Blake Savage, Cornell University; Finn Doyle, Princeton University and Will Harrigan and Emily Jones, Columbia University.
Average ACT Score-31; 109 out of 125 students in the class took an AP Course (87.2 %); Total number of AP Courses taken is 489.
Total Merit Aid: $31,503,340.00; 81 students (65%) received a scholarship to the school they plan to attend; Six full paid scholarships; Average scholarship for the school they plan to attend: $104,288.00.
During the 2022-23 school year, the Class of 2023 completed over 6,000 service hours (equivalent to 2.8 years of 40-hour weeks of service).
Five Scholastic Writing Award Winners
Five Scholastic Art Award Winners.
Ten student-athletes will be continuing their intercollegiate careers at Division I institutions next fall. Luke Boule' (University of Albany, baseball); Grace Fletcher (Marist College, track & field); Will Harrigan (Columbia University, baseball); Andrew Kohlbrenner (Marquette University, lacrosse); Joseph Papa (St. Joe's University, lacrosse); Lloyd Ziparo (Boston Univeristy, lacrosse); Amarri Pitts (Central Connecticut State, football); Jordan Rae (University of Albany, football); Casey Vaughn (Siena College, baseball); Giselle Vlassis (Lehigh University, tennis).
NYSHSAA Scholar-Athlete School of Distinction-26 varsity teams achieved a cumulative GPA of 90 percent or higher during their sports season. Three Sectional Championships; 10 League Championships.