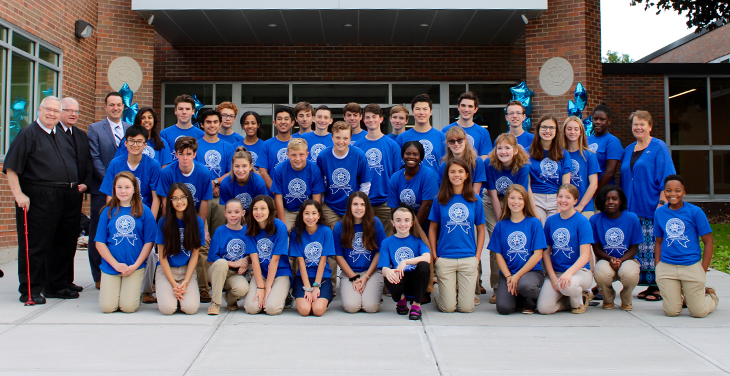 Founded: 1900
Grades: 7-12 (Co-educational)
Number of Students: 780+
Number of Faculty & Staff: 85
Student/Faculty Ratio: 12:1
Network of CBA Alumni: 7,500
Courses/Classes Offered: 116
AP Classes Offered: 25+
Graduation Rate: 100 %
Athletic Teams: 60+
Activities/Clubs: 45 +
Bands: 4 (Including Jazz Ensemble and String Orchestra)
Choirs: 4 (Including Jubilee and Select Chorus)
Dramas/Musicals: 3 (Including Jr. High Musical)
School Colors: Purple & Gold
Nickname: The Brothers
Notable
CBA was named a "National Blue Ribbon School of Excellence" in September 2019. One of only 50 private schools nationally and the only private school in New York State (2019).
---
Ranked as Best #1 Catholic High School in Upstate New York by Niche.com
---
Average standardized test scores are in the top 15% of all high schools in the country.
---
CBA students, on average, score 30 percentage points higher on the NYS Math and ELA exam, compared to students throughout New York Sate.
---
The average CBA student takes more than four AP courses preparing students for college and potentially earning college credit.
---
On average, approximately 150 college representatives visit the CBA campus and recruit students to their college or university each year.
---
Comprehensive SAT prep program is offered to students including the full administration of a version of the PSAT exam in the 8th, 9th, 10th and 11th grade.
---
Class of 2022 Profile   
100% of our seniors were accepted into a four-year school. Students are attending colleges and universities such as:
Cornell University
Colgate University

University of Virginia

Penn St. University

Baylor University
Clarkson University
Fordham University
Villanova University
University of Maryland
Arizona State University
The George Washington University
University of Rochester
Boston University
Bentley University
University of Alabama
Syracuse University
Le Moyne College
---
The average ACT score for the Class of 2022 was 31.2.
The CBA class of 2022 took over 460 AP courses during their time at CBA; 102 students out of the class of 126 took at least 1 AP course (80.95%).
During the school year, the Class of 2022 provided over 6,800 hours of community service. 
Total amount received in merit scholarships (not including financial aid): $31,837,743.
Total number of students who received a scholarship to the school they will be attending next year: 94 (75%); Average scholarship awards at the schools students will be attending next year: $95,683. 
Members of the CBA class of 2022 were offered eight full academic scholarships.
Four students accepted into Dual-Degree Programs.
Seven student athletes committed to play Division I athletics. 
This year alone...1 State Championship; 4 Sectional Championships; 7 League Championships.
Four students recognized in the CNY Scholastic Art Competition. 
100% of senior students who applied were accepted into 4-year schools.
One National Merit Semifinalist
Three National Merit Commended Students
Seventy members of the Brother Adolphus National Honor Society.