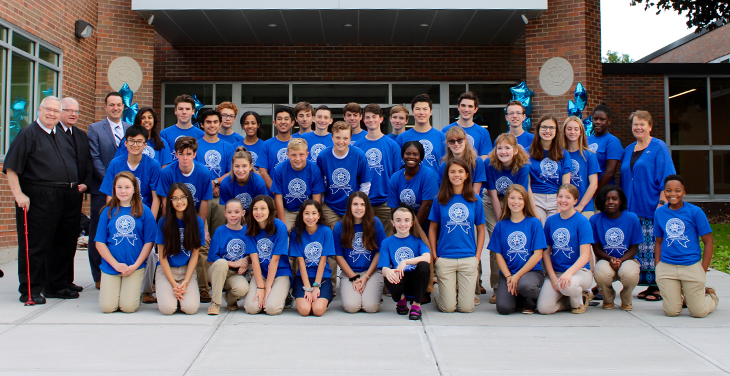 Founded: 1900
Grades: 7-12 (Co-educational)
Number of Students: 780+
Number of Faculty & Staff: 85
Student/Faculty Ratio: 12:1
Network of CBA Alumni: 7,500
Courses/Classes Offered: 116
AP Classes Offered: 25+
Graduation Rate: 100 %
Athletic Teams: 60+
Activities/Clubs: 45 +
Bands: 4 (Including Jazz Ensemble and String Orchestra)
Choirs: 4 (Including Jubilee and Select Chorus)
Dramas/Musicals: 3 (Including Jr. High Musical)
School Colors: Purple & Gold
Nickname: The Brothers
Notable
CBA was named a "National Blue Ribbon School of Excellence" in September 2019. One of only 50 private schools nationally and the only private school in New York State (2019).
---
Ranked as Best #1 Catholic High School in Upstate New York by Niche.com
---
Average standardized test scores are in the top 15% of all high schools in the country.
---
CBA students, on average, score 30 percentage points higher on the NYS Math and ELA exam, compared to students throughout New York Sate.
---
The average CBA student takes more than four AP courses preparing students for college and potentially earning college credit.
---
On average, approximately 150 college representatives visit the CBA campus and recruit students to their college or university each year.
---
Comprehensive SAT prep program is offered to students including the full administration of a version of the PSAT exam in the 8th, 9th, 10th and 11th grade.
---
Class of 2020 Profile   
99% of our seniors were accepted into a four-year school, with one student electing to play hockey for the Eastern Hockey League. Students are attending colleges and universities such as:
Cornell
the University of Pennsylvania
Duke University
University of Notre Dame
University of California Los Angeles (UCLA)
Georgetown
Carnegie Mellon
Wake Forest University
Wesleyan University
Bucknell University
Hamilton College
Rensselaer Polytechnic Institute
University of Rochester
Boston University
Bentley University
Michigan State University
Syracuse University
---
Several students earned spots in extremely competitive accelerated and dual degree programs including:
The Dual Admittance M.D. Program at SUNY ESF and Upstate University
3 + 4 Dual Admittance Medical Program at RIT and Upstate University
The Early Admittance Medical Program at Union and Albany Medical School
The University of Rochester Early Medical Scholars (REMS)
---
Thirty-four students will continue their Catholic Education at schools such as:
Georgetown
Providence
Villanova
Loyola Marymount
St. John Fisher
Le Moyne College
Canisius
Xavier
---
One student is attending Howard University, a historically Black College or University (HBCU) founded in 1867 in Washington, DC.
---
Members of the class earned over $25 million in merit scholarship grants, not including financial aid, with the average student earning $210K.
One National Merit Scholarship recipient
three National Merit Commended students
65 members of the Brother Adolphus National Honor Society
---
Nine student athletes have committed to play Division I athletics.
---