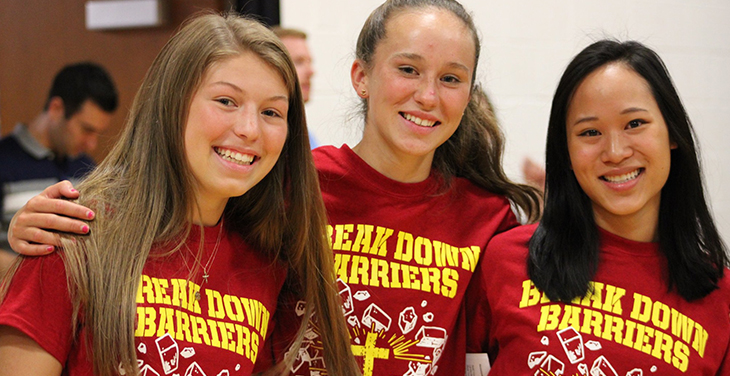 Welcome To CBA
Welcome To The Brotherhood
Welcome To Your Future
GET TO KNOW CBA IN THE WAY THAT IS RIGHT FOR YOU!
For over 120 years, CBA has met the needs and interests of our students – helping them to achieve greatness in all aspects of their lives. 
Here are several ways to help you discover if our CBA mission and Lasallian teaching practices are the best fit for YOU as a student, or for your child. You are invited to join us for one of our signature programs. 
Experience CBA In-PersonProspective families are required to wear masks and fill out a health questionnaire prior to entering our building.
1-Open House
Our annual Open House for students entering grades 7-10 will be held on Sunday, Oct. 31 from 1:00 p.m.-3:00 p.m. Open House is a unique opportunity to converse with our dedicated faculty and staff, learn about our curriculum and extracurricular activities and speak with our students and parents. Members of our Guidance Office, Student Support Services and Finance Office are also on hand to answer your questions. See our Fine Arts Department in action and explore more of what our Lasallian education is all about. Tours of the school will be led by CBA student volunteers.
No pre-registration is required. 
2-Tuesday Tours
What makes our CBA culture so special? Come join a small group in person tour. See students changing classes, view faculty members doing what they do best and feel the pride we have in our CBA community. Small groups of two families (one adult, one applicant or two adults per family) for a total of four visitors will be toured through our building in small groups on Tuesdays. All Brothers Building Tours begin at 8:30 a.m. Click on your preferred date to register: 
9/21: https://forms.gle/AV1NbYj1EysWUZaJ6
9/28: https://forms.gle/E1sK6hgtKrxLnHCN8
10/5: https://forms.gle/bcwAfLy13HXwmbiQ8
10/19: https://forms.gle/k7yG7FnxbmKgVYf19
11/9: https://forms.gle/o8Q6Ehew86EiVfX39
11/16: https://forms.gle/rWYGkYAVwKKUJXjs9
12/7: https://forms.gle/JJqFCoR2A5kMcJ4o8
1-Visit our Virtual Welcome Center
Your first stop in getting to know CBA! We know there is nothing like an in person visit to our campus, but here is an introduction to the CBA Brotherhood. This virtual tour was created and filmed by a 2020 CBA graduate, the vibrant student life and favorite YouTube videos help capture the CBA spirit for you to view from your home. Visit Our Virtual Welcome Center. In addition, you can also take a virtual walkthrough of our Syracuse campus.
2-Investigate our Documented Successes
"CBA by the numbers" sheet- We take our college preparatory experience seriously! The numbers speak for themselves in this comprehensive overview of CBA statistics.

CBA By the Numbers

See All that CBA Academics has to Offer- A small school with big school options! 2020-21 Course of Studies
Life Outside of the Classroom- Are you passionate about music, art, robotics, athletics, e-sports, Model United Nations, community service, or developing your faith? CBA offers a multitude of clubs and activities for students to join.

2020-21 Overview Booklet
3-Make a CBA Connection
CBA ambassadors will be rolling out the purple carpet for you. We have all walked in your shoes! Prospective students – Would you like to speak with a current CBA student? Parents, do you have questions for current parents whose children attended your child's school prior to CBA? Would you like to speak with a CBA parent who lives in your geographical area? Email Mrs. Dowd at [email protected] to connect with a CBA ambassador.
4-Conversation With President Matt Keough...Why Choose CBA?
Offered in conjunction with our entrance exams, the program is tailored for adults, however, students are also welcome. Mr. Keough offers a unique perspective on the value of a CBA Lasallian education, in addition to answering your questions in a Q & A portion. We invite parents/guardians to stay for this program while your rising 7th and 9th graders are taking the entrance exam, however, ALL prospective families are invited to attend this presentation (regardless of grade level).  The program will run from 8:15 am - 9:15 am in the CBA Dining Center.  Come join the conversation!
---
If you have any questions, please contact Holly Dowd, Director of Enrollment Management at [email protected] or at (315) 446-5960 Extension 1231.