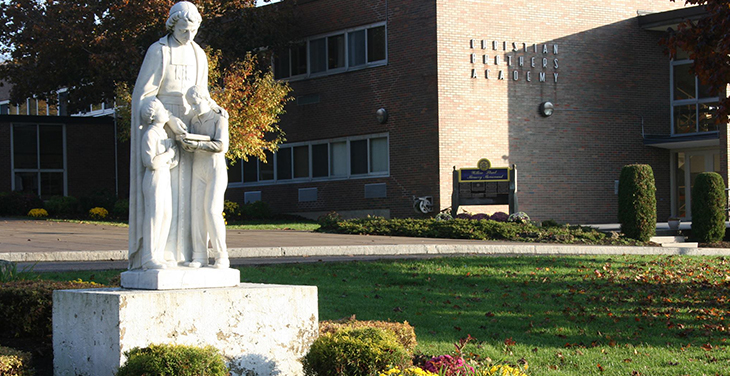 Mission Statement
Christian Brothers Academy is a Catholic Lasallian college preparatory high school and middle school serving young men and women of diverse faiths and cultures in grades 7-12. 
The administration, faculty, staff and the entire CBA family provide students with a safe, nurturing environment that fosters spiritual, intellectual, physical, emotional, and social growth.
CBA challenges students to achieve excellence in all aspects of their lives, encouraging them to live as moral, responsible, contributing, and successful members of society. 
Our Founder
St. John Baptist de La Salle, founder of the Brothers of the Christian Schools (commonly referred to as the de La Salle Christian Brothers) was born into a wealthy and privileged family in Rheims, France in 1651. From an early age, he was destined to the priesthood. Although his abilities and social position might have led him to achieve a high ecclesiastical rank, he was drawn by God to the mission of serving the poor. Recognizing the only long-term solution for the underprivileged was access to education, de La Salle gave away his wealth to provide for the poor.
He assembled a group of men, trained them as teachers, and invited them to live in his home while they became immersed in study. So engaged in his mission, he soon resigned his canonry to dedicate himself to training teachers and creating schools for the poor. Thus began the Christian Brothers and their mission of education. In 1900, John Baptist de La Salle was canonized the Patron Saint of All Teachers.
Our History
In 1900, the same year that St. John Baptist de La Salle was canonized the Patron Saint of All Teachers; the Christian Brothers founded a high school in downtown Syracuse, NY. The graduates immersed themselves in their community as leaders in a multitude of arenas from law, to politics, to medicine. By the late 1950's, the school was filled far beyond capacity. A location was secured on Randall Road and a new school was built which opened its doors in the fall of 1961. Since then, CBA has added 7th and 8th graders to the school (1977) and when the nearby Convent School/Franciscan Academy closed, opened its doors to young women (1987). In recent years, the number of lay teachers—fully committed to the Lasallian tradition—have also increased exponentially. CBA faculty members, who are oriented and educated in the methodology and charisma of St. John Baptist de La Salle, are exceptional educators, providing a challenging academic environment infused with strong discipline and character education. The Lasallian tradition permeates the entire community as the spirit of St. John Baptist de La Salle lives on at Christian Brothers Academy.