Welcome to Christian Brothers Academy!
"To touch the hearts of your students is the greatest miracle that you can perform."
~St. John Baptist de La Salle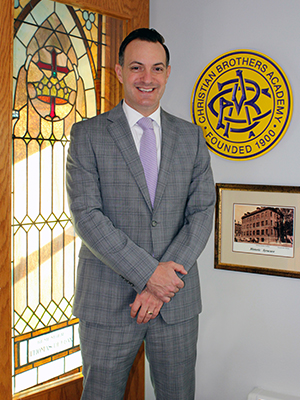 In 17th century France, Saint John Baptist de La Salle founded schools for the poor that encouraged teachers to touch hearts. Amazingly, this simple instruction resonated among aspiring educational communities. Adopting de La Salle's philosophy to the education of students from all economic, racial, and religious backgrounds resulted in a world-renowned and world-wide teaching ideology. CBA is grounded in our Lasallian Catholic tradition of a personalized education that challenges students to achieve excellence in all aspects of their lives.
I frequently hear the question, "Why is K-12 Lasallian Catholic education important?" K-12 Lasallian Catholic education provides the building blocks for all future success. CBA students build their work habits, analysis and reasoning skills, and learn to express themselves in both written and verbal form. Students learn to serve others, persevere through challenges, and remain faithful through life's inevitable ups and downs. Academics in isolation has never been our goal. Rather, activities which build character, social responsibility, faith, and a passion to achieve your best permeate the CBA experience.
"Neither do people light a lamp and put it under a bowl. Instead they put it on its stand, and it gives light to everyone in the house (Matthew 5:15)."
Throughout our 120-year history, CBA has instilled the principles of faith in the presence of God, academic excellence, an inclusive community, a respect for all persons, and a special concern for the poor and social justice. The CBA graduate merges their gifts and talents with the desire to serve others to positively impact the world. By touching hearts, CBA helps each student find, develop, and let their light shine.
In 2019, CBA was the only private school in New York State named as a National Blue Ribbon School of Excellence. In addition, Niche.com has consistently ranked CBA as the #1 Catholic school in all of Upstate New York. The excellence that de La Salle started in 17th century France continues at CBA Syracuse today!
When I arrived at CBA in fall of 2004, it was for a job as a math teacher. In a short amount of time, that job transformed into a vocation. CBA is the community where my personal faith and vocational calling intersect with my professional life. I was honored and humbled to serve as Principal, and now as the first lay President of the school. Along the way, those transitions were inspired by a commitment to ensure that our school remains distinctly Lasallian. For years, the Brothers of the Christian Schools lived and worked on our campus. Today, as lay partners, we carry on their mission. It is with deep respect and gratitude that I have the opportunity to lead our Lasallian ministry - Christian Brothers Academy.
As you learn more about CBA, you will find that the values and skills developed through a Lasallian education fortify each student's ability to face any new challenge. CBA may be one of your first steps on your educational journey, but that first step sets you on a course for a lifetime. As you discover more about what it means to be a Brother, please contact me at [email protected] if I can assist in any way. Go Brothers!
Sincerely,
Mr. Matthew Keough
President, Christian Brothers Academy