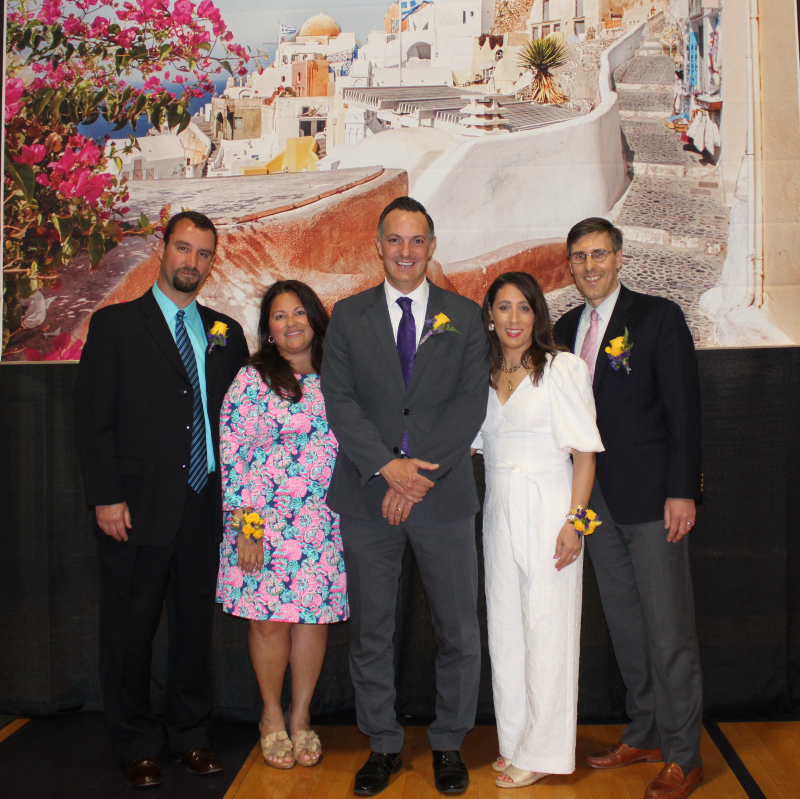 Pictured with President Matt Keough are co-chairs:  Jeff Ascenzo '96 and Maria Ascenzo '96 and Jenna & David MacLachlan.
More than 300 family, friends and alumni attended the 34th Annual Christian Brothers Academy Lasallian Dinner and Auction on April 15.
"Here We Go Again," was the Greek-inspired theme of this year's celebration which directly benefits students at the school by helping to offset tuition costs, and thus ensuring that CBA remains accessible to those who desire a high caliber, college preparatory, Catholic education in the Lasallian tradition.
Approximately 150 silent auction and 17 live auction items were featured. Silent auction items included: fine dining gift certificates and entertainment, MacKenzie Childs and Lily Pulitzer items, electronics, sports memorabilia, plus much, much more. Live auction items included: trips to the Outer Banks, Key Largo, Woodstock Inn, Vermont, and the Rose Bowl; local destinations including The Lake House on Canandaigua and Skaneateles Lake. A Boston Red Sox package, Denver Broncos experience, SU season tickets, a recumbent bike, a diamond pendent, a dinner party, backyard cookout, dinner for a year at 12 local restaurants, front row graduation seats, and front row fashion show seats.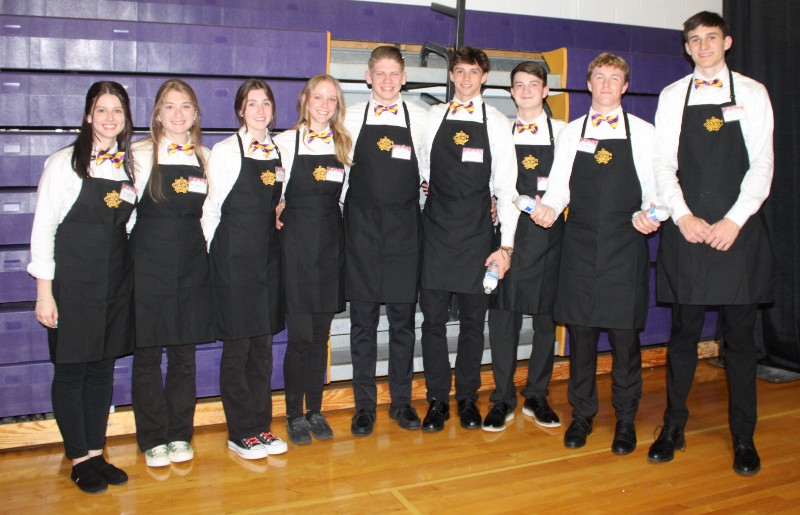 Also, part of the live auction was "Raise Your Paddle." During the year, teachers are asked to submit proposals for teaching aids or equipment that will directly benefit the students. This year's "Raise Your Paddle" live-auction funds went to an innovative technology lab. The lab will provide students with a variety of digital means so that students may learn, communicate, and express themselves through coding, animation, video & music production, graphic design, photography, e-sports, web design and more. The lab will be used for a wide range of classes including robotics, engineering, program and app development, photography, and video production.
More than $200,000 to support the Lasallian mission was raised, including over $55,000 for the Raise Your Paddle portion.
Raffle tickets for a trip to Greece were sold, and CBA parent Carolyn Williamson was the winner.
Several students volunteered, passing out hors d'oeuvres, checking coats and assisting with the live portion of the auction. John Marshall, AFSC '67 was the emcee and Jim Kirby was the auctioneer.
Sponsors of this year's Lasallian Dinner and Auction included:
Mamma Mia: Byrne Dairy & Deli
Dancing Queen: Barclay Damon, LLP, Hueber-Breuer Construction Co., Inc., Key Bank
Honey, Honey: American Food & Vending Corp.; Msgr. Ronald C. Bill '49; Bond, Schoeneck & King Attorneys; BPAS Actuarial & Pension Services; Mr. & Mrs. Donald DeKay, Jr. '72; Mr. & Mrs. John Drescher; Mr. & Mrs. Adam & Claudia Gasiorowski; Junior Parents In Memory of Christian Cuomo; Le Moyne College; Mr. & Mrs. John Marshall AFSC '67; Rev. Frederick Mannara '55; NWS Janitorial Services; The Brothers of The Christian Schools, DENA
Take A Chance On Me: CNY Infusion Services; Mackenzie Hughes LLP; Mr. & Mrs. Erik & Jessica Hehl; Mr. & Mrs. Thomas & Cara Jean; Mr. & Mrs. Michael & Jessica Johnson; Mr. & Mrs. Jeremy & Kelly Shanly; Mr. & Mrs. Mark & Phyllis Zames
Mobile Bidding Sponsors:  Learn as you Grow-Kevin & Kathy LaGrow, Josh '01 and Erica '04.
Audio Visual Sponsors: Visual Technologies
Co-chairs of the auction were: Jenna & David MacLachlan and Maria '96 & Jeff Ascenzo '96