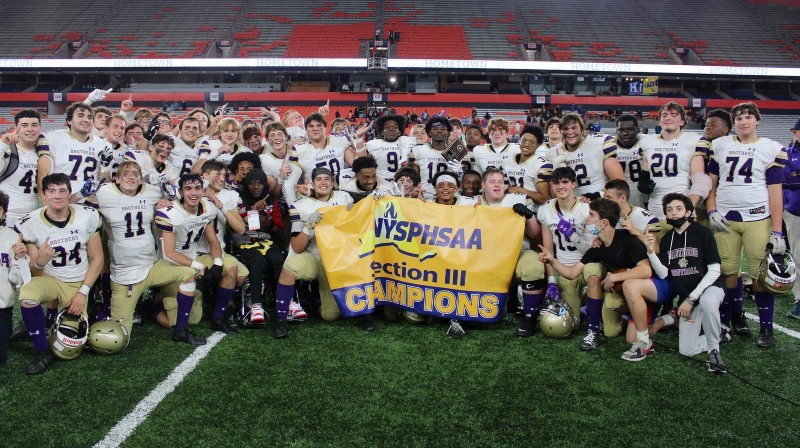 Junior quarterback Jordan Rae completed 17-of-20 passes for 337 yards and seven touchdowns, and sophomore wideout Syair Torrence caught six passes for 138 yards and three touchdowns as No. 6 seed CBA upset No. 1 seed and previously unbeaten Indian River, 61-26 to claim the Class A Sectional Championship Title at the Dome on Nov. 12.
The Brothers, who avenged an earlier season loss to Indian River, advance to the State Quarterfinals, as they play Union Endicott at Vestal on Friday, Nov. 19 at 8:00 p.m.
Torrence had all three of his touchdowns in the first half, as the Brothers jumped out to a 26-0 lead and never looked back. Sophomore Jamier Handford led the Brothers in the second half with touchdown receptions of six and 49 yards to up the Brothers lead to 42-0 in the third. Senior Gage Schortemeier put the icing on the cake, recovering an onside kick and returning it 58 yards to paydirt.
The Brothers sport a 6-3 record and are ranked 18th in the State.
More on the game at:
Syracuse.com: https://highschoolsports.syracuse.com/game/111578
9 WSYR: https://www.localsyr.com/sports/high-school-sports/cba-takes-down-indian-river-for-section-iii-class-a-title/
CBA Syracuse Facebook: https://www.facebook.com/cbasyracuse