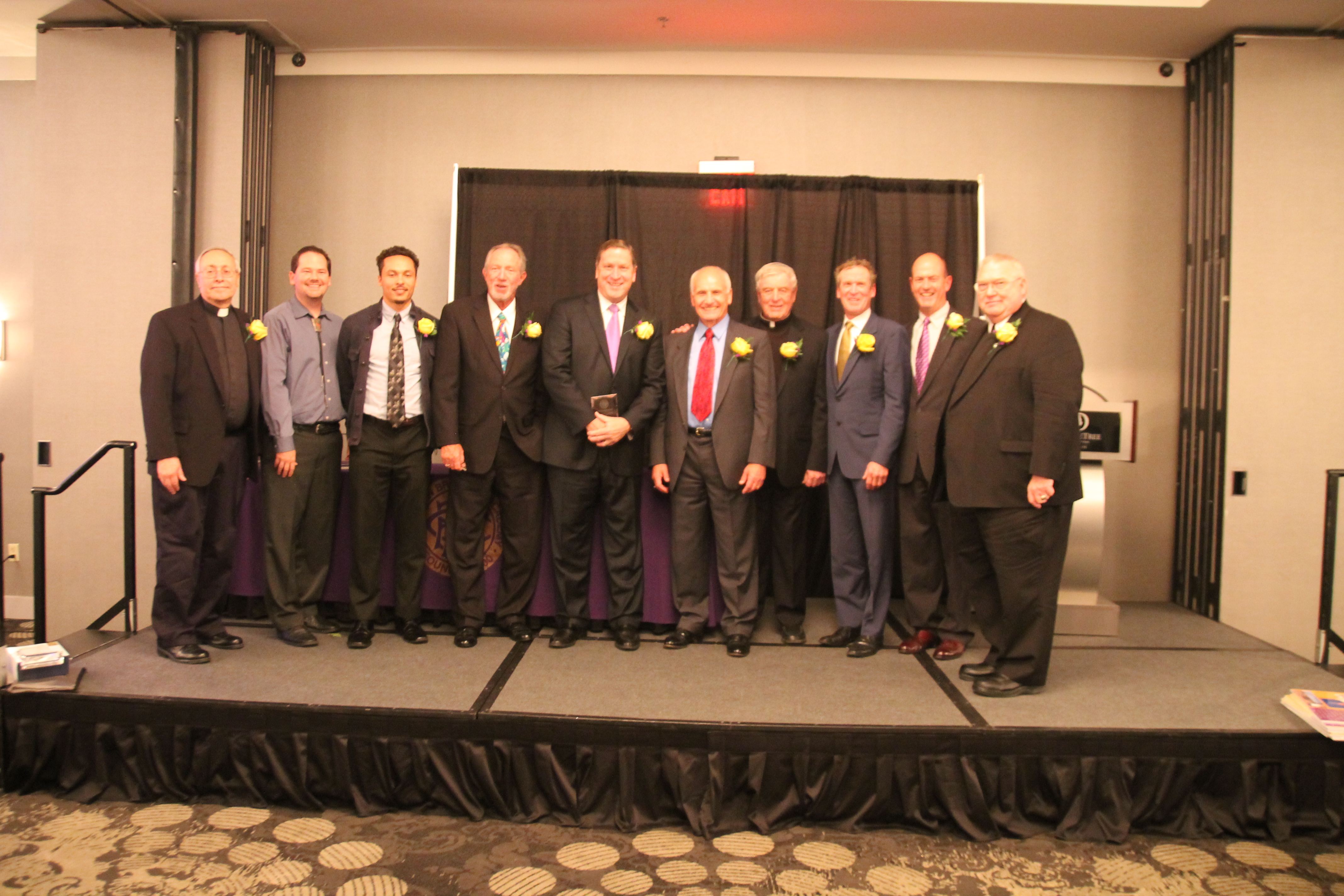 Pictured (l-r): Rev. Louis Canino '60, Spencer Baum (nephew of honoree Dr. Carl Baum), Amado Carsky (son of honoree Dr. Robert Carsky), Joseph Charles Jr. '61 (son of honoree Joseph Charles '30), S. Richard Fedrizzi '72, Patrick Morelli '62, Rev. James Mathews '54, Daniel Byrne '70, William Murphy '75 (Master of Ceremonies) and Brother Joseph Jozwiak FSC Principal. Missing from photo is Gianfranco Zaccai '65.
Over 200 family, friends and alumni attended the inaugural Christian Brothers Academy Distinguished Alumni Award Dinner and Ceremony on Nov. 2 at the DoubleTree Hotel on Carrier Circle as nine graduates of the school were honored.
The award recognizes CBA graduates who have made significant contributions to society; and whose accomplishments, affiliations and careers have honored the legacy of excellence at CBA.
"CBA has been blessed with many talented, successful and well-accomplished individuals and tonight's honorees exemplify the ideals and values of the Lasallian tradition of CBA," said Brother Joseph Jozwiak, FSC Principal.
This year's recipients are:
Dr. Carl Baum '58 (Posthumously; Albuquerque, N.M.)-World renowned scientist and distinguished research professor.
Daniel Byrne '70 (Seattle, Wash.)-Founded Byrne Specialty Gases, which provides engineered gas solutions, market applications and world-class service to biotech companies.
Rev. Louis Canino '60 (Stoneville, N.C.)-Founded St. Francis House in Boston, a day shelter and soup kitchen for the homeless.
Dr. Robert Carsky '73 (Posthumously; Cotonou, Benin)-An agronomist who worked with the African Rice Center, WARDA, one of the fifteen CGIAR agricultural research Centers supported by the World Bank.
Joseph Charles '30 (Posthumously; Syracuse, N.Y.)-Instituted many youth programs including six-man football league, Biddy Basketball, Pee Wee Hockey, Optimist Youth Basketball and Pop Warner football.
S. Richard Fedrizzi '72 (Syracuse, N.Y.)-Founded the U.S. Green Building Council (USGBC) and World Green Building Council.
Rev. James Mathews '54 (Syracuse, N.Y.)-Was the driving force behind the Near Westside Initiative; an advocate for the impoverished and marginalized in his neighborhood.
Patrick Morelli '62 (Loudonville, N.Y.)-An internationally acclaimed artist and architectural designer; works displayed in Smithsonian Institute's American Art Museum in Washington, DC.
Gianfranco Zaccai '65 (West Newton, Mass.)-Invented the Swiffer system, the Compass system (hospital modular wall units to save space and keep rooms comfortable for patients), and OMNIPOD, the miniature insulin delivery system device for children.
"In my current role with the U.S. Green Building Council, I have the occasion to attend many awards ceremonies. None have meant more to me than this one," remarked S. Richard Fedrizzi. "I am reminded each and every day how lucky I am to have benefitted from the education and the foundation that CBA was able to give me in those critical years of my youth."
The Distinguished Alumni Award will be presented bi-annually alternating with the Lasallian Athletic Hall of Fame Award.