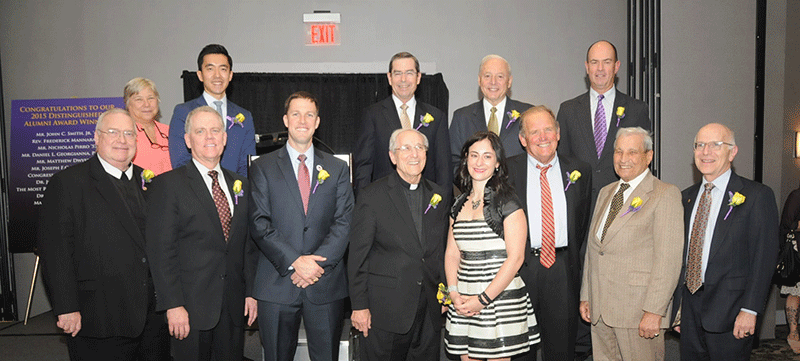 Pictured front row: President, Brother Joseph Jozwiak, FSC; Dr. John Brennan '77; Michael Erwin '98; Rev. Frederick Mannara '55; Dr. Laura M. Cashin '98; Daniel Georgianna '61; John Smith '48 and Joseph DiMento '65. Back row: Barbara Dwyer (representing Matthew Dwyer '63); Brian Kim '00, James Walsh '66, Nicholas Pirro '57 and William Murphy '77, chair of the Distinguished Alumni Awards Dinner and Ceremony committee.
Over 200 family members, friends and alumni attended Christian Brothers Academy Distinguished Alumni Award Dinner and Ceremony on Nov. 7 at the DoubleTree Hotel on Carrier Circle, as twelve graduates of the school were honored.
The award recognizes CBA graduates who have made significant contributions to society; and whose accomplishments, affiliations and careers have honored the legacy of excellence at CBA. The Distinguished Alumni Award is presented bi-annually, alternating with the Lasallian Athletic Hall of Fame Award. Nine graduates of the school were honored in 2013, the inaugural year of the award.
"CBA has been blessed with many talented, successful and well-accomplished individuals and tonight's honorees exemplify the ideals and values of the Lasallian tradition of CBA," said President, Brother Joseph Jozwiak, FSC.
"For their part, the honorees have achieved success in their chosen fields and have set themselves apart through exemplary service to their communities," he added. "We are proud to have this illustrious group of 12 men and women join those honored at our inaugural event in 2013."
This year's recipients are:
Dr. John A. Brennan '77-Served in the United States Air Force as Chief of Emergency Medicine for the 22nd Strategic Air Command Regional Hospital in California from 1989-1992. He is the Executive Vice President and President and CEO of Newark Beth Israel Medical Center and Children's Hospital of New Jersey.
Dr. Laura M. Cashin '98-Was stationed in Seoul, South Korea as an Internist at Brian Allgood Army Community Hospital, where she served as a primary care physician and consultant to providers across the South Korean Peninsula, providing care to US military beneficiaries. Currently, she is an Assistant Professor in the department of Internal Medicine at Texas Tech University Health Sciences Center, El Paso, TX, and is also affiliated as a physician with the El Paso County Hospital District.
Joseph F. C. Dimento '65-Earned a Ph.D. in urban and regional planning, plus a Juris Doctor degree from the University of Michigan. He has been a professor of law at the University of California Irvine since 1974, and has written a dozen books and taught courses on a wide variety of subjects, including international law, urban and regional planning, domestic and international environmental law, administrative law and regulation, business and government, and conflict resolution.
Matt Dwyer '63 (posthumously)-Served in the Peace Corps in Sierra Leone, West Africa and in the Army in Vietnam. After attending Cornell Law School, he joined with Ronald Briggs to form the law firm Briggs and Dwyer in 1979 in Lake Placid. He volunteered with the Lake Placid Lions, on the Board of North Country Legal Services, the Lake Placid Memorial Hospital board, and as an officer in the Essex County Bar Association. He passed away in 2003, after a long battle with cancer.
Michael Erwin '98-Served three combat tours with the First Cavalry Division and 3rd Special Forces Group. On those tours, he worked with NATO Forces, serving as lead intelligence planner for the largest NATO led combat operation in history. He earned two Bronze Stars from those tours. He founded Team Red, White, and Blue, and serves as the Chairman of the Board. Team RWB's mission is to enrich the lives of America's veterans by connecting them to their communities through physical and social activity. He is currently the CEO for Quiet Leadership Institute headquartered in Tarrytown, NY.
Dr. Daniel L. Georgianna '61-Is the Chancellor Professor Emeritus in the School of Marine Science and Technology at University of Massachusetts, Dartmouth, where he taught for 35 years. He has won several academic awards and is the author of 30 journal articles and chapters in books, more than 35 monographs, more than 150 newspaper and magazine articles and has successfully completed over 20 government research grants, almost all concerning coastal resource economics.
Bishop Borys Gudziak '78-Was ordained to the priesthood in 1998 in Lviv. He is the author of over 50 studies on the history of the Church, theological training and on different topics of cultural relevance. In 2000, he became President of the Ukrainian National University. Pope Benedict XVI appointed him as Bishop of Paris for the Ukrainian Catholic Eparchy (Diocese) of France, Belgium, Switzerland, and Luxemburg on July 21, 2012. He received his episcopal ordination on Aug. 6, 2012, and was installed as Bishop of Paris in Notre Dame Cathedral on Dec. 2, 2012.
Brian Kim '00-Is an award-winning pianist and has built a career as a composer for film, TV, and multimedia. His film credits include: Hello, My Name is Doris (starring Sally Field in theaters March 2016); Accidental Love, The Other Woman and New in Town. His TV credits include: Star vs. the Forces of Evil, How I Met Your Mother, Switched at Birth and Significant Mother. He has also composed music for national commercials for Reebok, PepsiCo, and Fidelity and performed at the 2013 Academy Awards in the choir accompanying Adele, and has produced and/or performed with Boyz II Men, Wayne Brady, John Lithgow and Ben Vereen.
Rev. Frederick Mannara '55-Was ordained in 1963 and served as associate pastor in parishes in Norwich, Binghamton, Jordan, Baldwinsville, and New Hartford, and as pastor at Our Lady of Lourdes and Most Holy Rosary in Syracuse. He also taught at Bishop Ludden, Henninger and Fowler Faith Centers. He was awarded the Bishops Medallion by Catholic Charities for his true and heartfelt devotion to serving people of the diocese and to living as a model of service to others.
Nicholas Pirro '57-Began his four decades of continuous service in 1965 when he was appointed to the Board of Supervisors, now the Onondaga County Legislature, eventually rising to Chairman. He began his first term as County Executive to Onondaga County in 1988, was elected five times to serve consecutive four year terms, and retired in December 2007. During his tenure as County Legislator and County Executive, he was involved in the establishment of Onondaga Community College, the 911 Emergency Communications System, county-wide recycling, the county public library system, the Rosamond Gifford Zoo, the Center for Forensic Science and the County's Veterans Cemetery.
John C. Smith, Jr. '48-Started J.C. Smith in 1976 with his wife, Josephine and his three sisters. J.C. Smith offers industrial construction equipment, highway safety supplies, custom made road signs, contractor tools and supplies, and equipment rental and repair. The company has expanded to six locations across New York State. He initiated the Eastwood Bears Football and Cheerleading Association, as well as other sports organizations in Eastwood, and remains active in the Eastwood American Legion, still volunteering for Bingo on Friday nights.
Cong. James T. Walsh '66-Elected to the US House of Representatives in 1989 and served for over 20 years. He was chair of several house appropriations committees, including Veterans affairs; Housing and Urban Development; Independent Agencies: FEMA, EPA, NASA, and NSF, and The Legislative Branch. He introduced and passed legislation authorizing the federal component of the Onondaga Lake Cleanup; provided record funding increases for the US Department of Veterans affairs and the expansion of the Syracuse VA Medical Center; and created the Syracuse Neighbors Initiative.