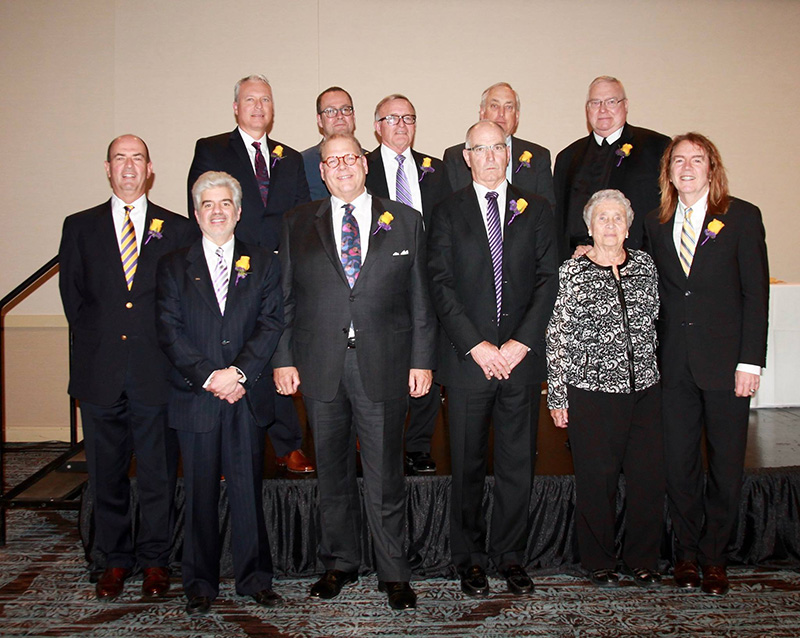 Pictured front row (l-r): Bill Murphy '75, John Marzocchi '77, Joseph Rulison '74, Dr. Peter Waters '73, Sr. Monica Nortz (for her brother, Fr. Alfred Nortz '46), and Bob Halligan Jr '71. Back Row: Brig. Gen. Joseph Hammer '86, Peter Mahoney (for his dad, James Mahoney, Ph.D.), Sen. John DeFrancisco '64, James Patell, Ph.D '66 and Br. Joseph Jozwiak, FSC, President of CBA.
Approximately 170 CBA alumni, family, friends, staff and members of the Board of Trustees celebrated the accomplishments of eight Distinguished Alumni Award recipients on Saturday, Nov. 4 at the Marriott Syracuse Downtown (formerly, Hotel Syracuse).
The evening's festivities began with much mixing, mingling, and reminiscing over finger foods, beverages, and spirits. The chatter and camaraderie continued throughout dinner and culminated with the presentation of the awards.
CBA President, Brother Joe Jozwiak, welcomed the crowd to kick off the evening. Detailed biographies, amusing anecdotes, and touching testimonials from friends and relatives of each honoree were shared by the evening's emcees and Distinguished Alumni Award Committee Co-Chairs, Bill Murphy '75 and John Marzocchi '77. The talented and successful honorees exemplify the ideals and values of the Lasallian tradition, as they are not only accomplished in their chosen fields but have set themselves apart through exemplary service to their communities and beyond.
2017 Recipients of the Distinguished Alumni Award:
Rev. Alfred Nortz '46 (awarded posthumously): After graduating from CBA, 'Fr. A' or 'Big Al' attended St. Bernard's Seminary in Rochester, NY and was ordained to the Priesthood on February 2, 1955. Over his 60 years of active ministry, he served in many parishes throughout the Diocese of Syracuse including: Blessed Sacrament in Utica; Holy Family in Fairmont; Blessed Sacrament in Johnson City; St. Ann's in Hinckley; St. Joseph's in Boonville; and his beloved St. Vincent dePaul Parish in Syracuse, where he ministered for 27 years. Fr. Al was a devoted servant of god and of his parishioners, particularly, the refugees who found a home in his church and in his heart.
James Mahoney, Ph.D. '55 (awarded posthumously): Dr. Mahoney had a distinguished career as an academic, a scientist, a business executive, and the director of key US Government environmental programs, over a span of five decades. Jim received a bachelor's degree in physics from Le Moyne College and a doctorate in meteorology and geophysical fluid dynamics from MIT. Jim was an Associate Professor of Applied Meteorology in the School of Public Health at Harvard and co-founder of Environmental Research and Technology Inc. In 1988, Jim was named Director of the National Acid Precipitation Assessment Program, serving under Presidents Reagan and George H. W. Bush. After another stint in the private sector, Jim returned to DC to serve as Assistant Secretary of the Department of Commerce and Deputy Administrator of the National Oceanic and Atmospheric Administration, where he served as Director of the US Climate Change Science Program, overseeing numerous research studies and developing climate change policies.
Sen. John A. DeFrancisco '64: Senator DeFrancisco received a Bachelor of Science degree from Syracuse University's College of Engineering and a Juris Doctor degree from Duke University. After holding the position of associate with the Simpson, Thacher and Bartlett law firm in New York City, he served as a Judge Advocate in the United States Air Force. After his military service, he was appointed Assistant District Attorney in Onondaga County, a position he held from 1975 until 1977 when he began his private law practice. He then served 11 years on the Syracuse Common Council, first as Councilor-at-Large and then as Council President. Senator John A. DeFrancisco currently serves as the New York State Senate Deputy Majority Leader. He was first elected to the New York State Senate in 1992 and has been re-elected by substantial margins in each of his subsequent races. Throughout his service in the New York State Legislature, Senator DeFrancisco has worked with his Senate Republican colleagues on legislation to help reduce crime, reform public assistance, reduce taxes, create jobs, control state spending, and increase government transparency.
James Patell, Ph.D. '66: Dr. Patell earned his bachelors and masters degrees in Engineering from the Massachusetts Institute of Technology, and his Ph.D. in Industrial Administration from Carnegie Mellon University. He is the Herbert Hoover Professor of Public and Private Management, emeritus, at the Graduate School of Business, Stanford University. Professor Patell taught at Stanford for 42 years, retiring in September 2017. For the last fourteen years, he taught the course sequence entitled Design for Extreme Affordability, in which teams of students from across the University design products and services for the poorest citizens of developing economies. Extreme teams have conducted 130 projects in 30 countries in Africa, Asia, and the Americas. They designed and brought to market low-cost incubators for low-birthweight infants, corrective braces for children with clubfoot, burn wound treatment devices and services, a new flooring technology for rural homes, and agricultural equipment for irrigation, fertilization, harvesting, and post-harvest processing, among many other innovations.
Mr. Robert Halligan, Jr. '71: After CBA, Bob went on to Hamilton College where he received his Bachelor of Arts degree in 1975. Bob has been an Adjunct Professor at Syracuse University for more than 10 years and has taught film scoring, songwriting, and advanced songwriting. He is the front man of Ceili Rain, (an innovative blend of pop-rock music and Celtic/Irish flavor). As a songwriter, Bob had more than 140 songs recorded by well-known rock artists, including Cher, Michael Bolton, Judas Priest, KISS, Kathy Mattea, Bob Carlisle, Rebecca St. James, Jump 5, Maire Brennan, and countless others. He has published more than 975 songs and his songs have sold more than 30 million units. He has sung on records with Billy Joel, Michael Bolton, Joan Jett, Darlene Love, Michael McDonald, Joe Lynn Turner, and Felix Cavalier from the Rascals. Films that featured his songs include Iron Eagle, Light of Day, Wayne's World, and Hard as Nails (HBO Documentary). He sang at a Papal gathering in Torino, Italy for 60,000 people in June of 2015, where he met Pope Francis.
Dr. Peter Waters '73: Dr. Waters received his bachelors and medical degrees from Tufts University. Peter is the Orthopedic Surgeon-in-Chief at Boston Children's Hospital; the Director of Brachial Plexus, Hand & Orthopedic Upper Extremity Program and the Director of Clinical Effectiveness Research Center; and the John E. Hall Professor at Harvard Medical School. Peter is co-author of the highly acclaimed Pediatric Hand and Upper Limb Surgery textbook and co-editor of the gold standard pediatric orthopedic textbook, Rockwood and Green: Fracture in Children. He has more than 200 publications in peer-reviewed journals and other textbooks. Peter is recognized nationally and internationally for his clinical and surgical expertise on the hand and upper limb in children and adolescents, especially congenital differences, post-traumatic complications, and brachial plexus birth palsies. Dr. Waters served as president of the Pediatric Orthopaedic Society of North America (POSNA) and is currently co-President of the International Pediatric Orthopaedic Think Tank (IPOTT). Peter entered medicine with a desire to care for children and he strives to improve and share his continuing education and research with others.
Mr. Joseph R. Rulison '74: After graduating from St. John Fisher College, Joe Rulison stayed in the Rochester area and spent his career in the financial services sector. He worked his way up from an account executive at Prudential-Bache Securities to his current position as CEO and Co-Founder of three+one, a liquidity analytics and data provider to public entities, higher education institutions, and banking institutions throughout the United States. From 2001- 2009, Joe served as the Market President and Market Executive for Bank of America in Rochester, New York and as President and CEO of Rulison & Company. As an independent investment advisor, he created a product, called Muniflow, which helped public entities invest their funds without jeopardizing their cash liquidity needs. He serves as a Board Member and Treasurer of the Monroe County Water Authority, Board Member to Visit Rochester, and Trustee to the University of Redlands in Redlands, CA. In addition, Joe has served as Chairman of the Board to St. John Fisher College, former Chairman of the County of Monroe Industrial Development Agency (COMIDA), and Chairman of the Board of Trustees for Geva Theatre, and a member of the Town of Brighton, NY Town Board.
Brig. Gen. Joseph Hammer '86: Joe Hammer has a bachelors degree in Industrial and Management Engineering from Rensselaer Polytechnic Institute and an MBA from Yale University, in Marketing Strategy and Finance. Joe has more than 19 years of experience in the telecommunications industry and is currently a Global Alliance Director for Nokia, responsible for sales and business development. Joe recently retired as Brigadier General in the Connecticut Air National Guard, where he served as the Commander of the 103rd Air Operations Group. He is a highly decorated officer with such distinctions as Meritorious Service Medal – Air Force Commendation Medal, Outstanding Unit Award with Valor and Combat Readiness – National Defense Service, Afghanistan Campaign, Global War on Terrorism Service, Armed Forces Service, and Air Force Expeditionary Service. During his Air Force career, he deployed for combat operations extensively around the world including Afghanistan, Colombia, Qatar, Italy, Iraq, Ecuador, Panama, and Honduras.
The Distinguished Alumni Awards ceremony takes place bi-annually, alternating with the Lasallian Athletic Hall of Fame awards. The main focuses of the distinction are the recipients' professional achievements and social contributions.