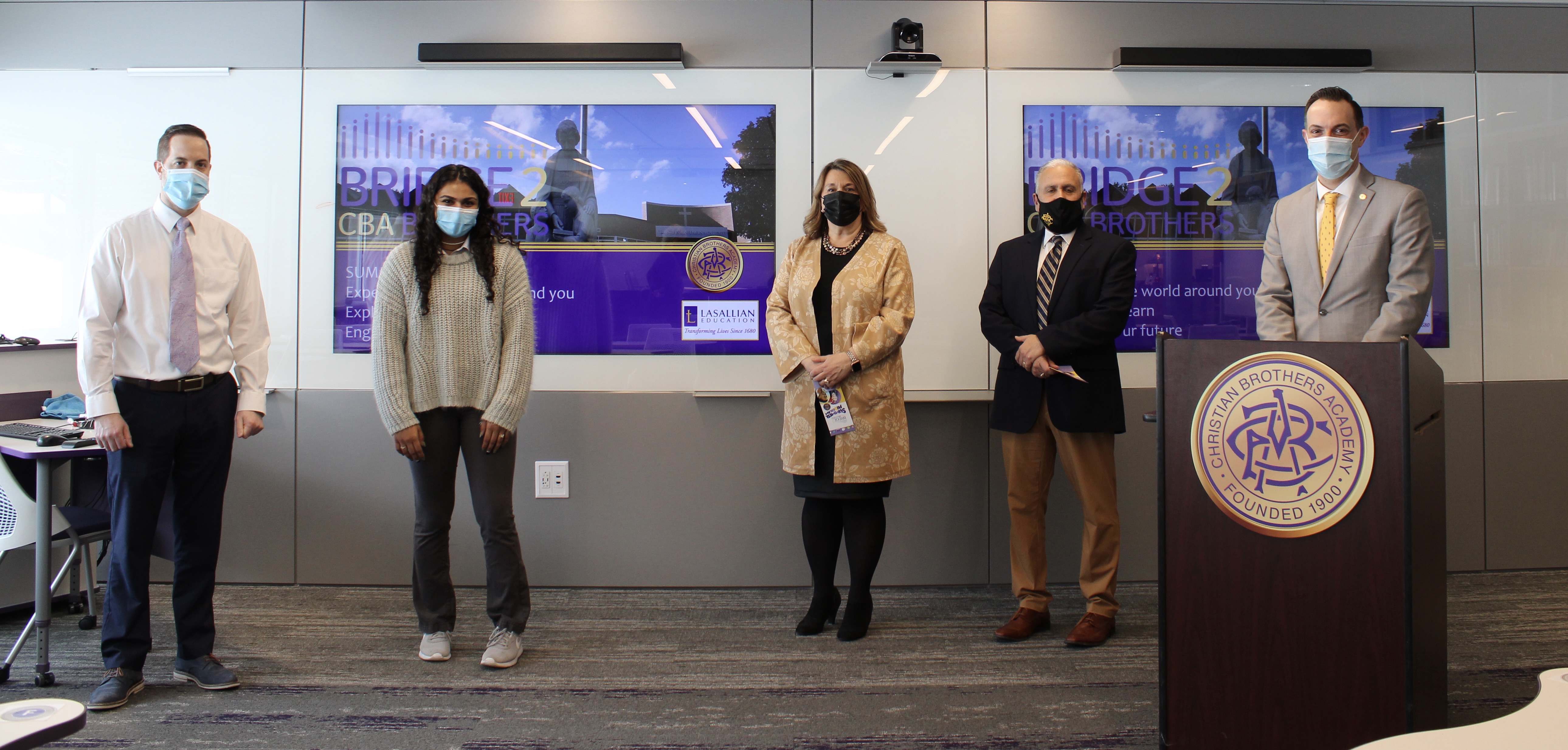 Pictured (l-r): Dave Marshall, Program Supervisor; Shanti Sapkota '22, student volunteer; Annemarie Mosley and Steve Garraffo, and President Matt Keough
Christian Brothers Academy announced today a brand-new free summer program for students currently in fourth and fifth grade in the Syracuse City School District that will help fill the learning gap created from the pandemic by offering a holistic and experiential approach to learning.
Bridge 2 CBA Brothers will provide an educational experience that will reduce barriers to success; inspire academic curiosity through experiential learning; enrich academics and develop life skills.
 The program is funded through the generosity of alumnus Dan Byrne '70 and his wife, Cristine J. DeMaio. Byrne is an entrepreneur and philanthropist who believes in providing opportunities for economically challenged youth through hands on experience, recognizing the short- and long-term impact of participatory education.
"I believe in the concept of 'social capital' gained through experiences in an educational setting that includes mentors, service opportunities, networks, and role models," Byrne shared. "The B2B program will offer experiences that will build 'social capital' and a more solid future for the most vulnerable in Syracuse – my hometown. I'm incredibly excited to be able to be a part of it!"
The four-week Bridge 2 CBA Brothers program will take place at the school's Randall Road campus and will run from July 12-Aug. 6. The program will include themed weeks where the students can learn about coding/robotics; local geology and exploration; rocket building and launching; and bridge building and busting. The students will also have an opportunity to visit local attractions and foster connections with community leaders.
Bridge 2 CBA Brothers is inclusive, providing morning transportation, meals, snacks, and materials; and will be staffed by incredibly devoted and highly skilled CBA faculty, along with student volunteers and program administrators. 
Syracuse City School District students currently in the 4thand 5th grades whose demonstrated family income is less than $60,000 and who have net assets less than $100,000 are eligible. Total enrollment is 30 students at each grade level for a total program enrollment of 60 students.
"The pandemic has caused immense harm to so many, especially those from disadvantaged economic backgrounds," Christian Brothers Academy President Matthew Keough said. "The impact on the education of young people threatens not only the current year but the future of these children and our community. We were able to merge the incredible generosity and vision of Dan Byrne, and his wife, Cristine with a concept conceived by staff members Steve Garraffo and Annemarie Mosley, that resulted in a program that is part of the solution. We are all responsible for the welfare of the young people in Central New York and we are excited to extend this educational opportunity to young students who are most in need," he added.
Bridge 2 CBA Brothers is in addition to the school's annual Summer Sizzle program, which offers academic workshops, fine arts and athletic camps. Bridge 2 Brothers Application 
Please email application to [email protected]: 
Or Mail Printed Form To:
Bridge To CBA Brothers
6245 Randall Road
Syracuse, NY 13214-5960