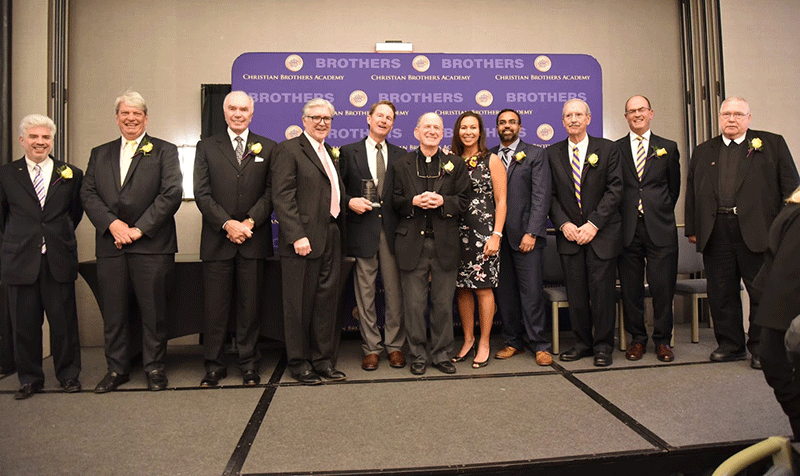 Pictured (l-r): John Marzocchi '77 (event co-chair), Dr. Mark Reed '73, John M. Brilbeck '64, M.C. Antil '72, Christopher Owen '70 (representing his father Joseph Owen '42), Fr. John Schopfer '61, Dr. Chandra Ivey '91, Dr. Amar Suryadevara '95, David Hayes '61, William Murphy '75, Br. Joseph Jozwiak, FSC.
The fourth installation of the Christian Brothers Academy Distinguished Alumni Awards was held on Saturday, Nov. 2 at the DoubleTree at Carrier Circle.
The award recognizes CBA graduates who have made significant contributions to society; and whose accomplishments, affiliations and careers have honored the legacy of excellence at CBA. The Distinguished Alumni Award is presented bi-annually, alternating with the Lasallian Athletic Hall of Fame Award. Twenty-nine graduates of the school have been honored, since 2013, the inaugural year of the award.
This year's recipients are: M.C. Antil '72, John Brilbeck '64, David M. Hayes '61, Dr. Chandra M. Ivey '91, Joseph R. Owen '42, Mark A. Reed '73, Rev. John Schopfer '61, Dr. Amar Suryadevara '95.
This year's recipients are:
M.C. Antil is a Chicago-based writer with over 30 years of experience as a marketer and communications strategist in television, professional sports and other highly competitive industries.
He began his career in the front office of the Chicago White Sox, learning the business of baseball from the ground up. When the White Sox were sold, he began a career in the cable television industry where he spent 21 years in various roles, eventually becoming director of corporate communications for ESPN. He left ESPN in 2001 to begin his writing career with the column M.C. Antil's CableFolks, profiling industry executives and giving his readers a combination of news-making achievements and personal backstory.
Antil began working with a growing number of clients, serving as a strategic wordsmith/planner for a wide range of corporations and individuals representing different disciplines from philanthropy to the law. In 2008, he composed his highest-profile address: the nomination speech by philanthropist Sheila C. Johnson at the Democratic National Convention endorsing Barrack Obama for President.
John Brilbeck '64 (Naples, FL) - received his B.S. in Industrial Distribution from Clarkson University, then completed his MBA in Marketing at Syracuse University.
Brilbeck spent the early part of his career with Carrier Corporation in various engineering, sales and managerial positions in Detroit and Syracuse. He spent the bulk of his career with Southern Heat Exchanger Corporation in Tuscaloosa, AL, starting as Sales Manager in 1981 and progressing to President and Sole Stockholder by 1985. Brilbeck ultimately led the company to grow sales by six times, profits twelve times, and plant size threefold. When the company was sold to Harbour Group in 1998, it was the third largest supplier of shell and tube heat exchangers in the United States and was debt free.
Brilbeck has been the Chairman/managing partner/president of JMBrilbeck LLC real estate holdings and several diverse corporate enterprises and investments since 2005.
Brilbeck served on the Boards for several organizations including Regions Bank, the University of Alabama, Clarkson University, and the West Alabama Chamber of Commerce. He is past president of the Tubular Exchanges Manufacturers Association and served as a member of many community committees and fundraising initiatives.
David M. Hayes '61 (Manlius, NY) - earned a B.A. in Political Science from Syracuse University and a L.L.B, Law from the University of Virginia Law School. He began his law practice at Hiscock (now, Barclay Damon), was the in-house counsel at Agway, and is now of Counsel at Bond, Schoeneck & King.
Hayes is the past President of the Onondaga County Bar Association, Legal Services of Central New York, Legal Aid Society of Mid-New York and the Boys & Girls Club of Syracuse; and a former Chair for the Legal, Tax and Accounting Committee for the National Council of Farmer Cooperatives, Washington, D.C.
Hayes has been active in the New York State Bar Association, where he has held the position of the State Bar's 5thJudicial District Vice President, Chair of the State Bar's Audit Committee and a member of the Antitrust Law Section Executive Committee. He was an Adjunct Professor of Law at the Syracuse University School of Law, where he taught the Antitrust Law course for 15 years. The New York State Bar Association has designated Hayes as an "Empire State Counsel" for his pro bono services.
Dr. Chandra M. Ivey '91 (Eastchester, NY) - made history as the first female valedictorian from CBA in 1991.
Dr. Ivey graduated from Harvard and Radcliffe College and then completed medical school at Weill-Cornell Medical College. She matriculated to Otolaryngology residency at the University of Cincinnati. Dr. Ivey completed a Laryngology fellowship with Dr. Peak Woo at Mount Sinai School of Medicine. She is a member of the American Board of Otolaryngology and a Fellow of the American College of Surgeons.
Dr. Ivey was director of the Division of Laryngology, Voice and Swallowing in the Department of Otolaryngology, Head and Neck Surgery at Columbia University. She is currently an Assistant Clinical Professor of Otolaryngology, and has held clinical appointments at Mount Sinai, Columbia University, Beth Israel, and New York Eye and Ear Infirmary and is currently clinical faculty at the Department of Otolaryngology at the Icahn School of Medicine at Mount Sinai.
Joseph R. Owen '42 (Posthumously; Skaneateles, NY) - left college the year after his graduation from CBA to enlist in the U.S. Marine Corps, and was soon tapped for Officers Candidates School.
After World War II, Owen returned to college on the G.I. Bill and graduated from Colgate University in 1948. He returned to active duty during the early days of the Korean War. As a second lieutenant, he helped lead rifle company Baker-One-Seven in bitter combat at the Chosin Reservoir. Ninety percent of the company's 300 Marines were killed, wounded or captured. Owen himself was gravely injured and spent 17 months recuperating in U.S. naval hospitals. Sixty years later, he was awarded the Silver Star Medal "for gallantry and intrepidity in armed combat."
After retiring from the Marine Corps, Owen embarked on a career in marketing, first with General Electric, and later with his own agencies, Owen Mastropaul and the Joseph Owen Co. His clients included Kodak, Carrier, Polaroid, and Corning Glass.
After retirement, Owen wrote "Colder Than Hell," an autobiographical account of the Chosin Reservoir conflict. It was published in 1996 by the Naval Institute Press and continues to be required reading at West Point and Officers Candidates School.
Mark A. Reed '73, Ph.D. (Monroe, CT) - received his Ph.D. in Physics from Syracuse University in 1983. After graduation, he joined Texas Instruments. In 1990, Reed began working at Yale University. He is the Harold Hodgkinson Chair of Engineering and Applied Science and is the Associate Director of the Yale Institute for Nanoscience and Quantum Engineering. Reed's research activities have included the investigation of electronic transport in nanoscale and mesoscopic systems, artificially structured materials and devices, molecular scale electronic transport, plasmonic transport in nanostructures, and chem/bio nanosensors.
Reed is the author of more than 200 publications and holds 33 U.S. and foreign patents on quantum effect, heterojunction, and molecular devices. He was the Editor in Chief of the journal Nanotechnology(2009-2019), is the present Editor in Chief of the journal Nano Futuresand holds numerous other editorial and advisory board positions.
Reed has been elected to the Connecticut Academy of Science and Engineering and Who's Who in the World. His awards include; Fortune Magazine "Most Promising Young Scientist" (1990), the Kilby Young Innovator Award (1994), the Fujitsu ISCS Quantum Device Award (2001), the Yale Science and Engineering Association Award for Advancement of Basic and Applied Science (2002), and the IEEE Pioneer Award in Nanotechnology (2007).
Rev. John Schopfer '61 (Syracuse, NY) - after graduated from CBA, he was called to the priesthood and completed his seminary training at St. Bernard's Seminary.
He returned to Central New York and has served at seven churches throughout the Syracuse Diocese. Rev. Schopfer started his priestly ministry at parishes in Oneida (St. Joseph's), Utica (St Francis), and Syracuse (St Anthony's). In 1978, Rev. Schopfer became the founder and pastoral director of the Brady Faith Center; whose mission is to meet the spiritual, educational, and social needs of individuals and families in the Southwest Community of Syracuse.
Rev. Schopfer has been a sacramental minister at the Onondaga County Justice Center since 1995, where he provides for inmates through the celebration of the Mass on Sundays and visits during the week. He is also a weekend associate at the Cathedral of the Immaculate Conception and a past member of the Presbyteral Council.
Dr. Amar Suryadevara '95 (Syracuse, NY) - majored in Biomedical Engineering at Syracuse University and graduated with Honors. He went on to complete medical school and his residency training in Otolaryngology and Head and Neck Surgery at SUNY Upstate Medical University.
It was during his residency training that Dr. Suryadevara became passionate about facial plastic and reconstructive surgery. He became dedicated to the art and science that the subspecialty requires and went on to obtain a prestigious fellowship in the field. Dr. Suryadevara completed a facial plastics fellowship with world renowned mentors Dr. Wayne Larrabee, Dr. Craig Murakami, and Dr. Kris Moe at the University of Washington in Seattle, WA.
Through his practice, Dr. Suryadevara has brought innovative medical care to the Syracuse community including the first cancer reconstruction program. He serves patients who have been disfigured, reconstructing facial deformities. His techniques are well known and he has taught them locally, regionally, nationally, and internationally in India and United Arab Emirates. Dr. Suryadevara was named the ENT residency program director at SUNY Upstate, where he is responsible for the education and mentoring of doctors training to be ENT surgeons.