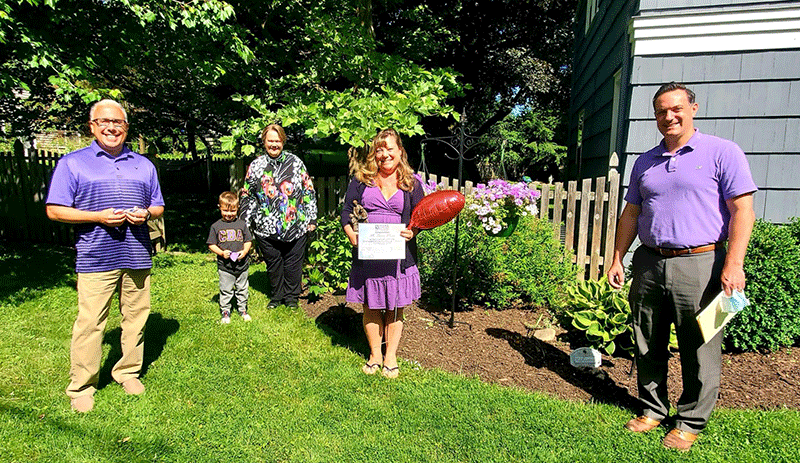 On June 15, Principal Matt Keough, and Assistant Principals Steve Garraffo and Sister Suzanne Dunn, along with Cayden Keough delivered a statue of St. John Baptist de la salle with students, a certificate from DENA (District of Eastern North America-The Brothers of The Christian Schools), a yellow lily plant, and a red heart balloon to Susan Major, Lasallian Educator of The Year.
Susan Major has been awarded Lasallian Educator of the Year for the 2019-2020 school year.
Major, who has spent the last 10 years at CBA teaching both Religion and English, was nominated by her colleagues.
"This is a very well-deserved honor for an exceptional educator," Holly Dowd, Director of Admissions said. "Every year, Mrs. Major opens the door of Lasallian education for our newest and youngest Brothers. She wraps her students in a hug of warmth, love, unconditional acceptance and learning. Ever a role model, Susan inspires all of us – students and staff alike – to travel on our faith journeys with grace and a deepened spirituality."
Major graduated with a Bachelor of Science degree in Communications and a minor in English from SUNY Fredonia. She earned her Master of Science Degree in Education, with a specialization in Secondary English Education from Le Moyne College.
Prior to her time at CBA, Major taught English at both Cazenovia Middle School, and Skaneateles High School. She was also the Director of Religious Education at St. Mary's of the Lake Church in Skaneateles.
In addition to her teaching responsibilities at CBA, Major was the moderator for Junior High Lasallian (2010-17) and has been the moderator for Faith, Film & Fun.
In her spare time, Major loves to write, read, cook and spend time with her family. She is a published author (Joyful Journeys: Sacred Pauses with God).
Her and her husband, Matt have been married for 23 years and have three children: Peter (20), Anna (16) & Grace (15), and a cat named Leo.
Colleagues Pay Tribute to Susan Major in this video: https://www.youtube.com/watch?v=jhewk0_qB40