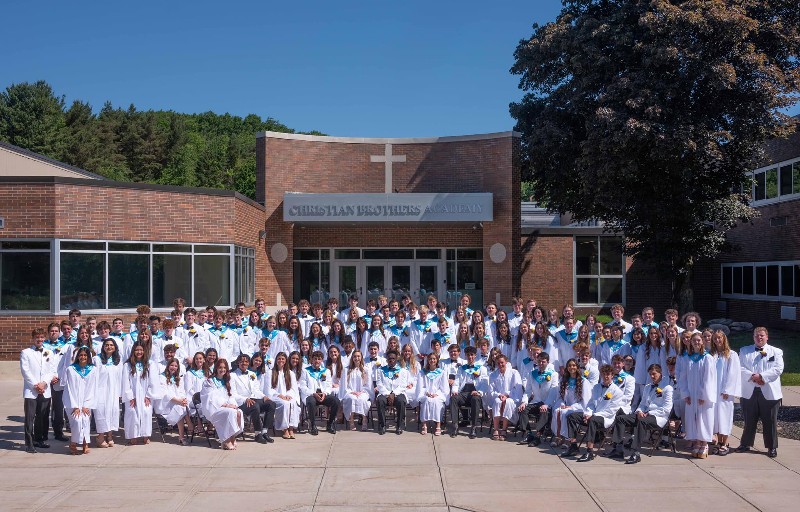 Photo By Chuck Wainwright
One hundred and twenty-six students graduated from Christian Brothers Academy on Sunday, June 5. The ceremonies for the Class of 2022 held at Alibrandi Stadium, included the presentation of several academic and service awards and diplomas.
Christina Falasco, the daughter of Carmen and Kazumi Falasco of Liverpool, delivered the Valedictorian speech. Falasco will attend University of Rochester, and will study Computer Engineering. Michael McMahon, the son of Gerald and Katherine McMahon of Syracuse, delivered the Salutatorian speech. McMahon will attend Cornell University and will study Urban and Regional Studies.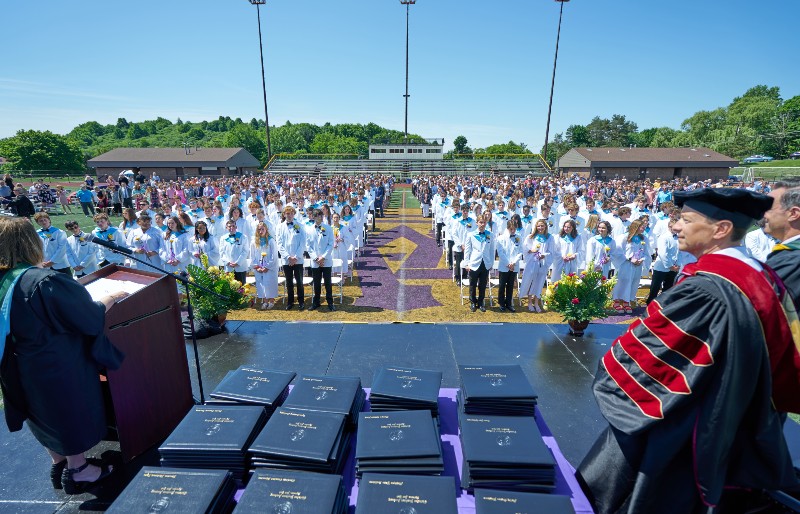 Photo By Chuck Wainwright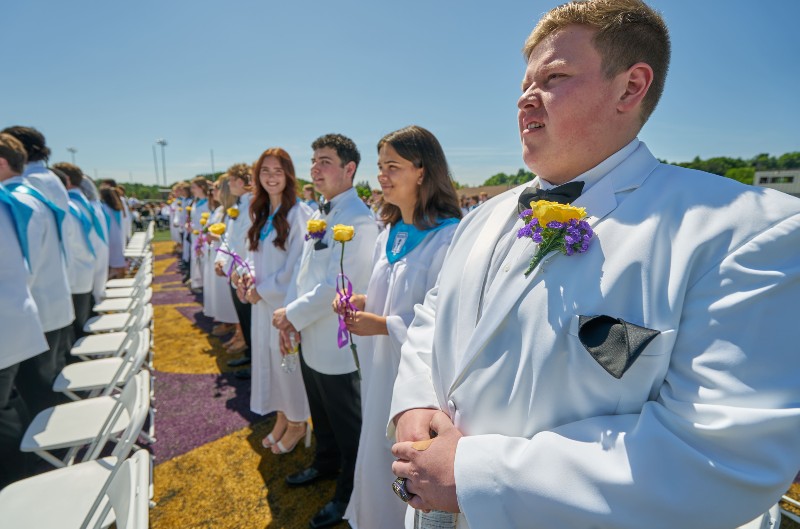 Photo By Chuck Wainwright
Here is a list of award winners:
GENERAL EXCELLENCE
In Memory of Frank J. Spina '47
Valedictorian: Christina Falasco
Salutatorian:  Michael McMahon
ENGLISH
In Memory of Louis J. Steigerwald, Sr. '17
Awarded To:  Jenna Macaluso
Next in Merit: Sydney Ouano
FINE ARTS
In Memory of Brother Anthony Lamb, FSC
In Band Awarded to: Chris Zajdel
In Orchestra Awarded to: Adriana Lagoe
In Chorus Awarded to:  Evelyn Blake
In Studio Arts Awarded to: Ingrid Watson
In Ceramics Awarded to: Jackson Varney
FRENCH
In Memory of Eleanor Sullivan Owen
Awarded To:  Rachel George
Next in Merit:  Jackson Marko
MATHEMATICS
In Memory of Norbert F. Abend, AFSC '22
Awarded To:  Tyler McCarthy
Next in Merit:  Cadence O'Brien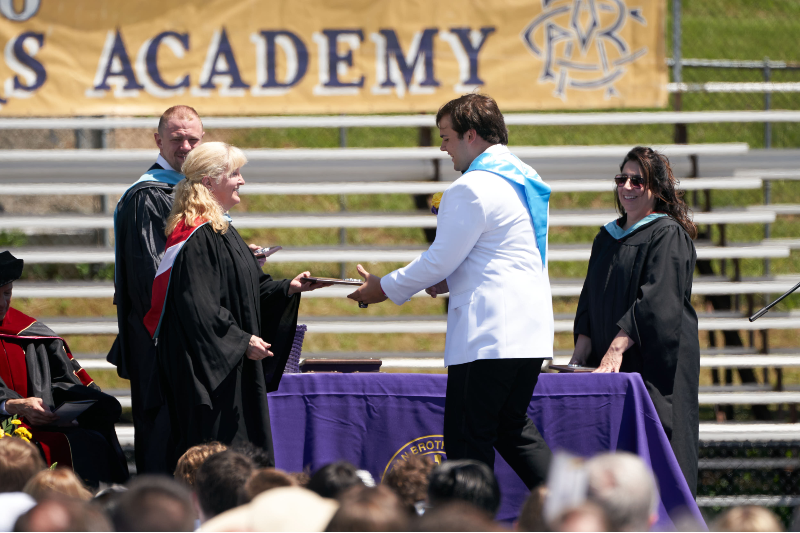 Photo by Chuck Wainwright
RELIGION
In Memory of Brother B. James Quinn, FSC
Awarded To:  Lily Genecco
Next in Merit: Delaney Hayden
SCIENCE
In Memory of Leonard P. Markert, AFSC '18
Awarded To:  Emma Piraino
Next in Merit: James Fallon
SOCIAL STUDIES
In Memory of Leo D. Kelley '17
Awarded To:  Nicholas Bremerman
Next in Merit:  Ryan Wendt
SPANISH
In Memory of Mr. and Mrs. T. Frank Dolan
Awarded To:  Jenna Macaluso
Next in Merit: Ari Colocotronis
PRESIDENT DE LA SALLE LEADERSHIP AWARD
Daniel Anderson        Kami Petrosillo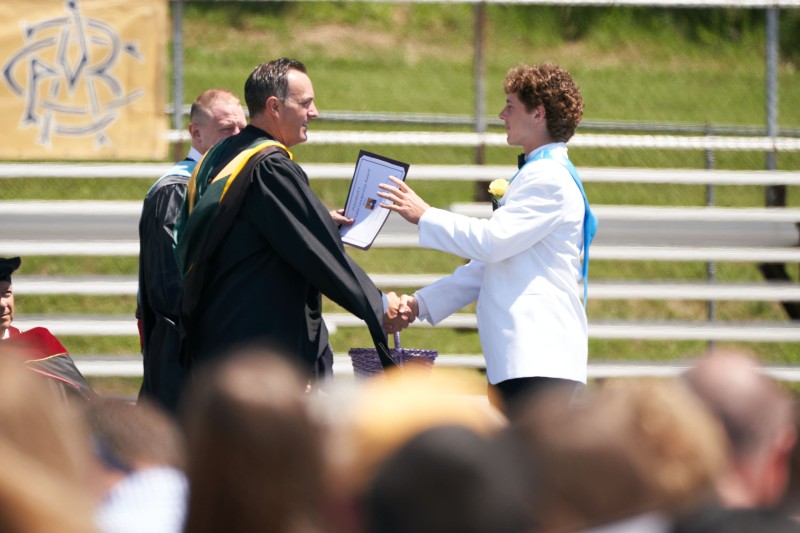 Photo By Chuck Wainwright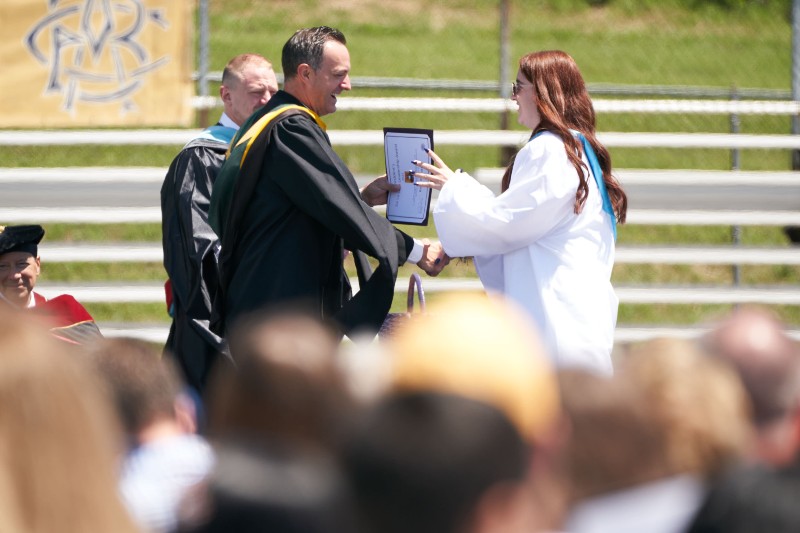 Photo By Chuck Wainwright
PRINCIPAL'S STUDENT RECOGNITION AWARD 
Alexander Burnett            Nora Kilmartin
NEW YORK STATE SENATE CITIZEN'S AWARD
Joseph Salvador                      Emma Piraino
SYRACUSE ROTARY CLUB AWARD
Tyler McCarthy         Mia Merola
SEMPER FIDELIS MUSIC AWARD
Megan Moriarty
CIVIC MORNING MUSIC AWARD
Katrina Huynh
MARINE CORPS SCHOLASTIC ACADEMIC EXCELLENCE AWARD
Logan McDougall       Rachel George
AIR FORCE MATH AND SCIENCE AWARD
Ryan Wendt    Julia del Pino
AIR FORCE SCHOLAR ATHLETE AWARD
Daniel Ludington         Shanti Sapokta
ATTORNEY GENERAL'S TRIPLE "C" AWARD
John Masinde        Caroline Silver
ALUMNI ASSOCIATION DISTINGUISHED SENIOR AWARD
Donated by the Alumni Association in Memory of Dr. Samuel Uva '57
Jackson Marko
"OH, HOW UPSTATE" AWARD
Donated by Francis Rivette '70 and Judith LaManna Rivette
Cadence O'Brien
CHERYL ANDERSON MEMORIAL SCIENCE AWARD
 AP Chemistry– Thienbinh Tran
 AP Physics – Victoria Beard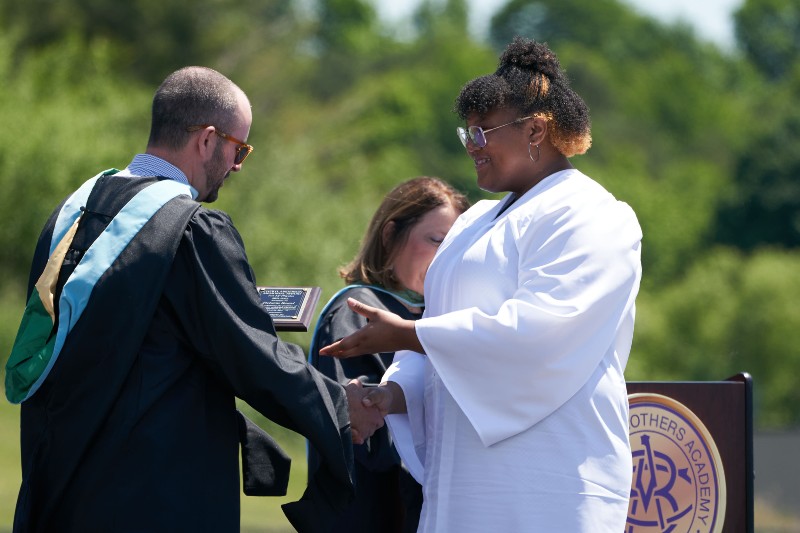 Photo By Chuck Wainwright
NEW YORK STATE COMPTROLLER'S ACHIEVEMENT AWARD
Nicholas Bremerman    Eleanor Black
BROTHER EDMOND DWYER AWARD
Gehrig Snyder  Fayrouz Enany
BROTHER GABRIEL FIUMANO AWARD
Nicholas Evans      Aubrey Mills
BROTHER STEPHEN McCABE and BROTHER JEROME STEVENS AWARD
Lily Genecco
BROTHER MUTIEN MARIE CREATIVE ARTS AWARD
Peter Scuderi             Henia Zames
COMMUNITY SERVICE AWARD
Emily Lumia
BROTHER BASILIAN O'CONNELL AWARD
Cooper Groat
BISHOP HARRISON AWARD
In Memory of Margaret Owen by her children Richard, Dennis, Maureen
Glenn Sharkey III          Makenna Schultz
BISHOP JOSEPH O'KEEFE AWARD
Casey Burke               Isabella D'Ambrosio
DeFRANCISCO FAMILY AWARD
Seamus McIntrye    Aditi Zirath
LA SALLE MEDAL
In Memory of Mr. Joseph J. Sindoni & Mrs. Angela M. Sindoni
Evan Brown      Molly Niedzwiecki
NATIONAL MERIT COMMENDED STUDENTS
Logan McDougal   Gehrig Snyder  Christina Falasco
NATIONAL MERIT SEMIFINALIST
Michael McMahon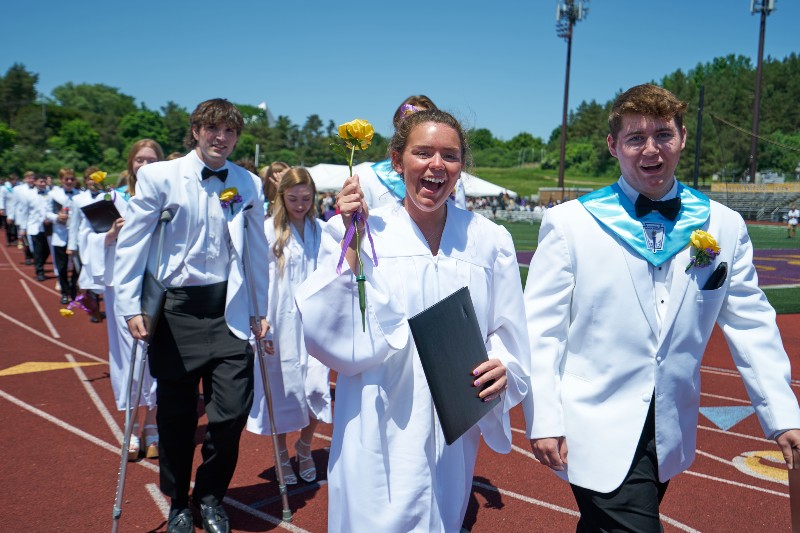 Photo By Chuck Wainwright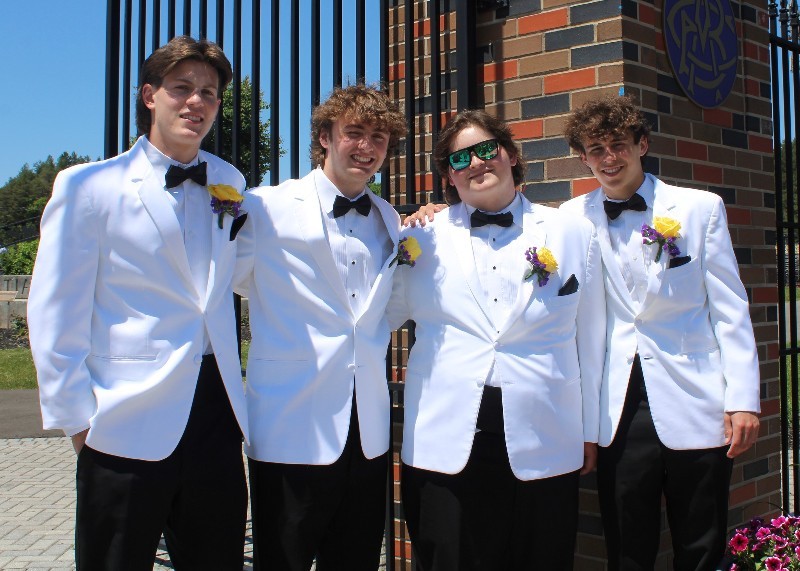 Photo By Chuck Wainwright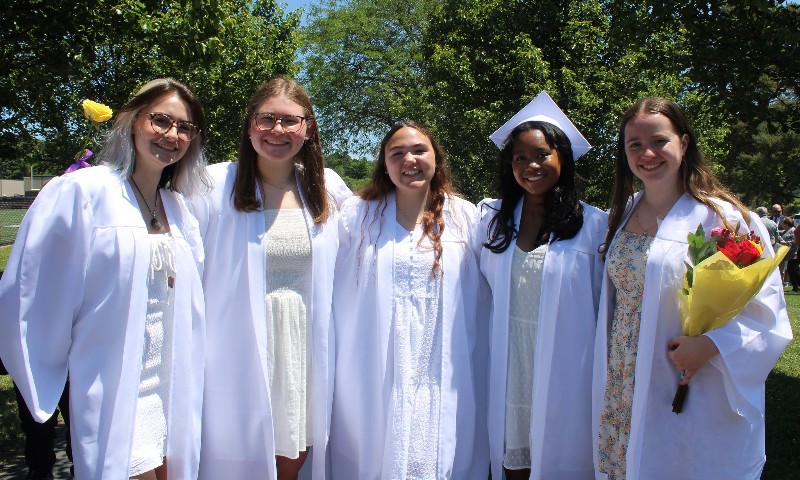 Photo By Chuck Wainwright
Additional Graduation Photos: https://wainwrightphoto.dphoto.com/album/ahvune    
Graduation Ceremony: https://youtu.be/Dg4tBgI1PaQ
Graduation Drone: https://www.youtube.com/watch?v=CELV8X9_N8c