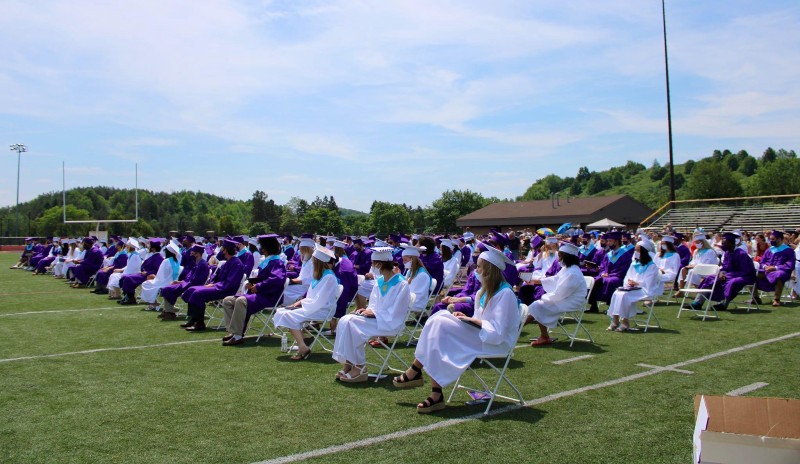 One hundred and forty-six students graduated from Christian Brothers Academy on Sunday, June 6. The ceremonies for the Class of 2021 held at Alibrandi Stadium, included the presentation of several academic and service awards and diplomas.
Rena Steele, the daughter of Jeffrey and Rachel Steele of Cazenovia delivered the Valedictorian address. Steele will attend the University of Notre Dame, and will study Computer Science.  Rachel Farella, the daughter of John Farella and Barbara Panko of Baldwinsville, delivered the Salutatorian address. Farella will attend Baylor University and study Biology.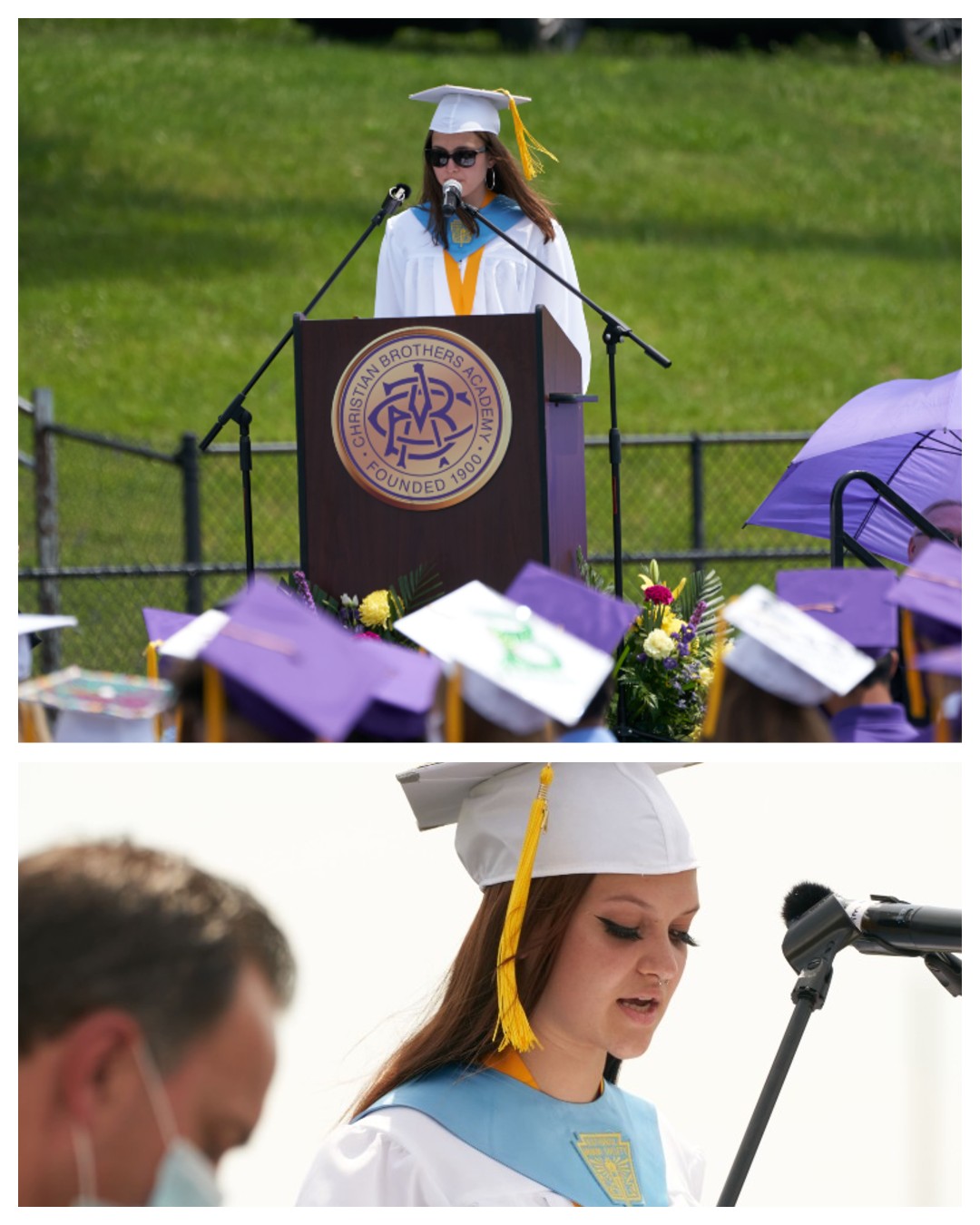 Rena Steele (top photo); Rachel Farella (bottom photo)
Darien Tompkins and David Kenney also received United States Air Force appointments.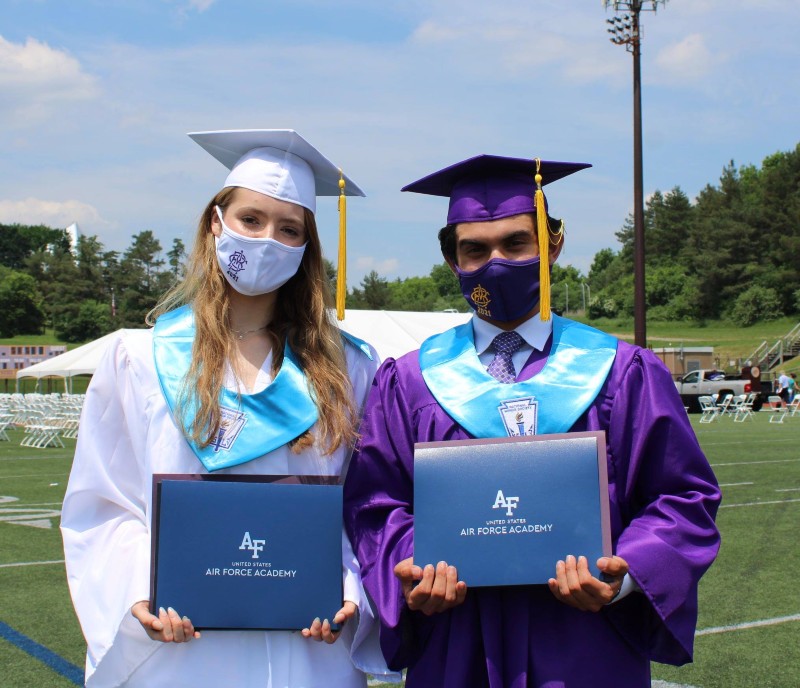 Some notes about the Class of 2021:
The national average on the SAT exam is 1050. The CBA class of 2021 had an average SAT score of over 1200.
The CBA class of 2021 took over 300 AP courses during their time at CBA.
Together, in just this year, this class provided over 6,000 hours of community service. 
Members of the CBA class of 2021 were offered eight full academic scholarships.
Five student athletes have committed to play Division I athletics. 
Out of the 250 entrants throughout CNY, the class had three semifinalists and one finalist in the Syracuse Stage Young Playwrights Contest sponsored by Syracuse Stage.
The boys basketball team set the school record for consecutive wins in a row.
One senior won the CNY Science and Engineering Fair.
A senior came in 2nd place in the Regional Shakespeare Competition.  
A student won the Cameron Impact Scholar – one of 15 students nationally selected for a full tuition, room, and board scholarship to be applied to any college in the country.
Seven members of the class were named All CNY Athletes.
100% of senior students who applied were accepted into 4-year schools.
One senior played a record 5 varsity sports!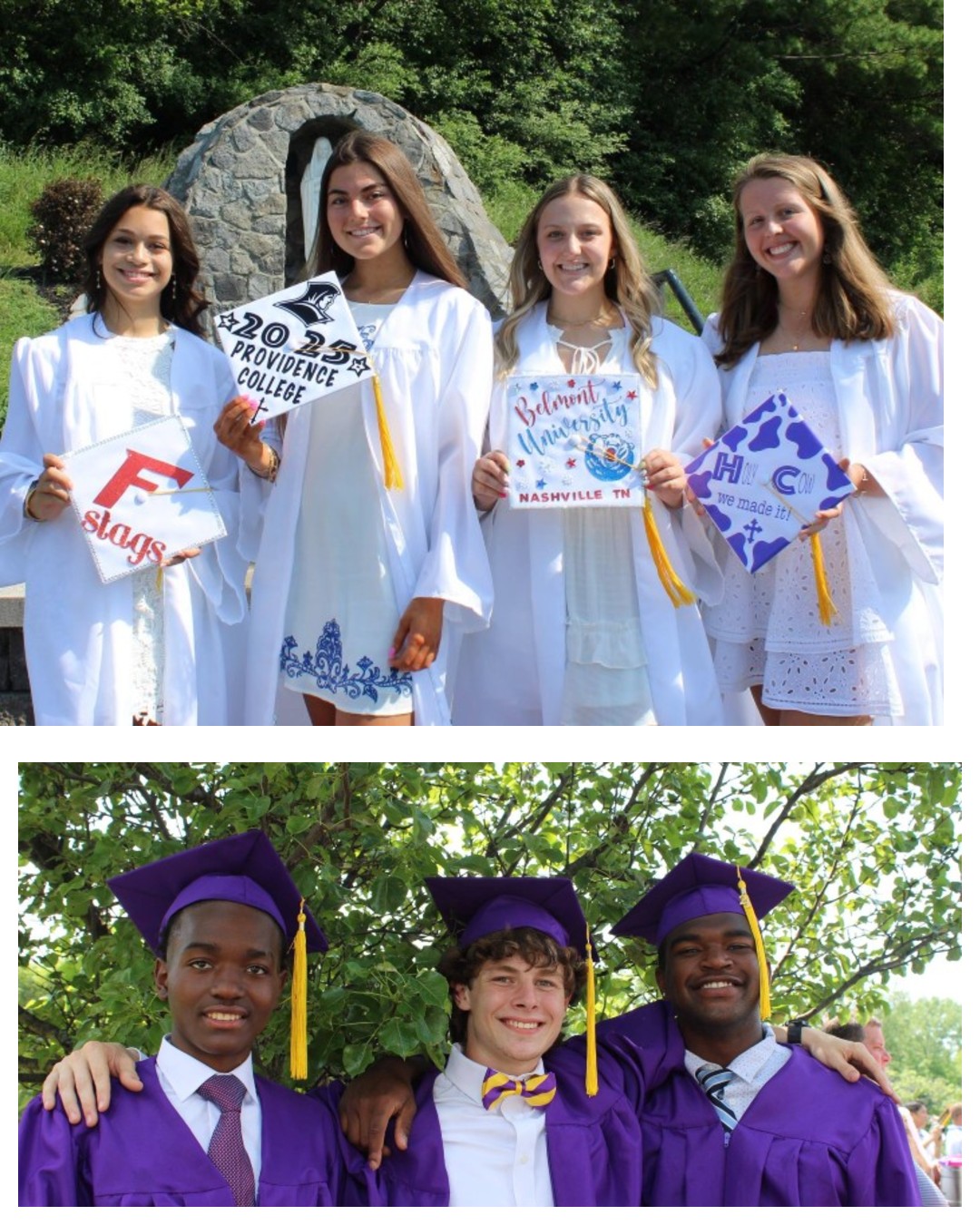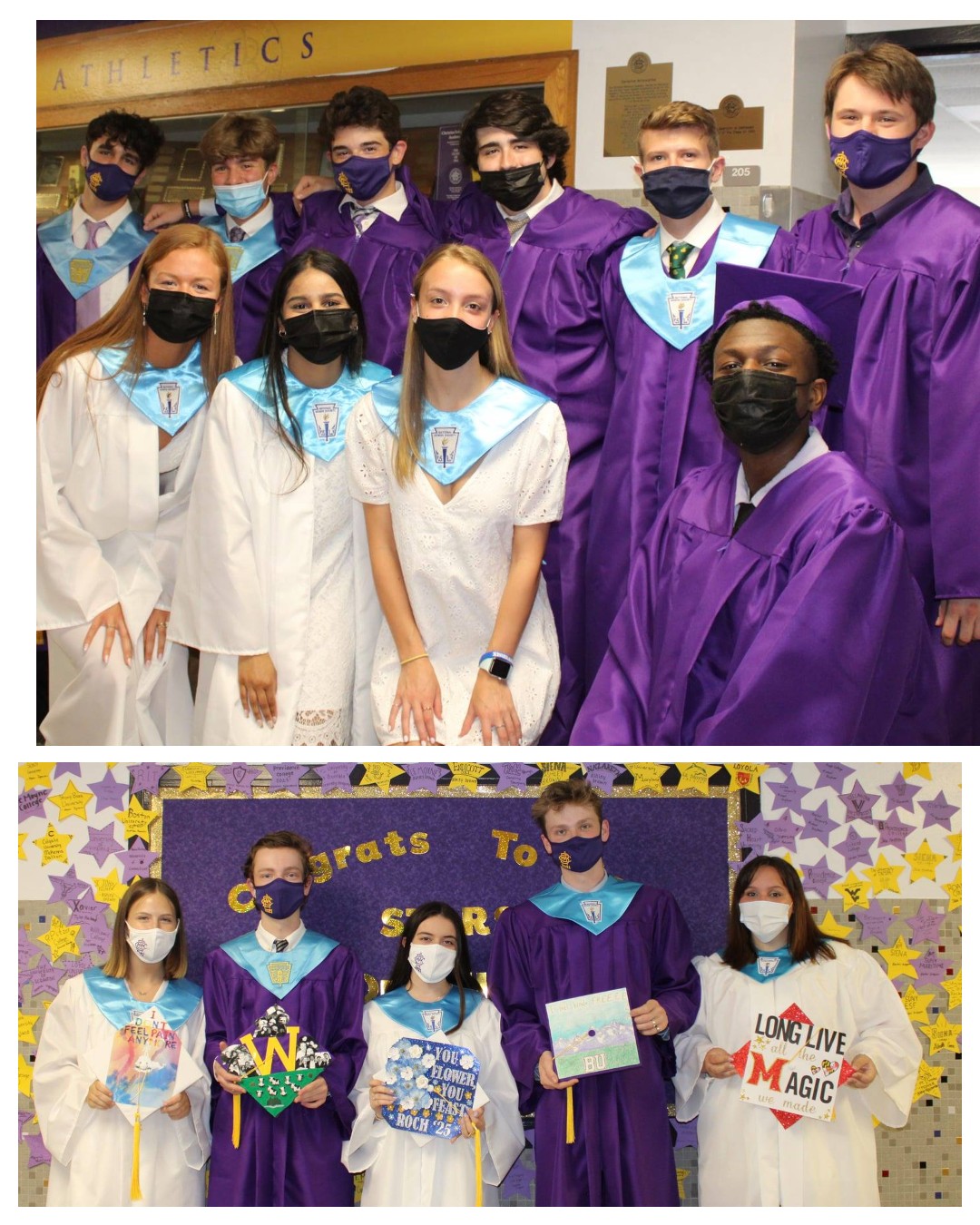 Here is a list of award winners:
GENERAL EXCELLENCE
In Memory of Frank J. Spina '47
Valedictorian: Rena Steele
Salutatorian:  Rachel Farella
ENGLISH
In Memory of Louis J. Steigerwald, Sr. '17
Awarded To:  Madeline Bartlett
Next in Merit: Abby Kambhampaty
FINE ARTS
In Memory of Brother Anthony Lamb, FSC
In Band Awarded to:  Noah Slifka
In Orchestra Awarded to:  Julia Medicis
In Chorus Awarded to:  Olivia Davis
In Studio Arts Awarded to:  Elena Kantor
FRENCH
In Memory of Eleanor Sullivan Owen
Awarded To:  Emmanuel Ignacio
Next in Merit:  Aidan Koch
MATHEMATICS
In Memory of Norbert F. Abend, AFSC '22
Awarded To:  Gabrielle Hollington
Next in Merit:  Thomas Homik
RELIGION
In Memory of Brother B. James Quinn, FSC
Awarded To:  Isabella DeRegis
Next in Merit: Isabella Roberson
SCIENCE
In Memory of Leonard P. Markert, AFSC '18
Awarded To:  Will Hazelton
Next in Merit:  Michael Heyboer
SOCIAL STUDIES
In Memory of Leo D. Kelley '17
Awarded To:  Michael Berger
Next in Merit:  Emmanuel Ignacio
SPANISH
In Memory of Mr. and Mrs. T. Frank Dolan
Awarded To:  Abigail Greenfield
Next in Merit: Patrick Klugman
PRESIDENT DE LA SALLE LEADERSHIP AWARD
Michael Berger        Emma Brewster
PRINCIPAL'S STUDENT RECOGNITION AWARD 
David Kenney            Lauren Kelly
NEW YORK STATE SENATE CITIZEN'S AWARD
Thomas Homik     Maya Geiss
SYRACUSE ROTARY CLUB AWARD
Jack Szatkowski         Anah Nizar
SEMPER FIDELIS MUSIC AWARD
David Kenney
CIVIC MORNING MUSIC AWARD
Aleksandra Wojtowycz
MARINE CORPS SCHOLASTIC ACADEMIC EXCELLENCE AWARD
Benjamin Mustico      Haley Arbon
AIR FORCE MATH AND SCIENCE AWARD
Will Hazelton     Emma Vercillo
AIR FORCE SCHOLAR ATHLETE AWARD
Brackton Bowler         Darien Tompkins
ATTORNEY GENERAL'S TRIPLE "C" AWARD
Tristen Kucera        Emma Mulherin
ALUMNI ASSOCIATION DISTINGUISHED SENIOR AWARD
Donated by the Alumni Association in Memory of Dr. Samuel Uva '57
 Rena Steele
"OH, HOW UPSTATE" AWARD
Donated by Francis Rivette '70 and Judith LaManna Rivette
   Joseph Andaloro
CHERYL ANDERSON MEMORIAL SCIENCE AWARD
 AP Physics – Michael Bolton
 AP Biology – William Raines
NEW YORK STATE COMPTROLLER'S ACHIEVEMENT AWARD
Matthew Caraccioli    Abigail Greenfield
BROTHER EDMOND DWYER AWARD
Cianna Boayue
BROTHER GABRIEL FIUMANO AWARD
Kamren Harris       Gabrielle Coon
BROTHER STEPHEN McCABE and BROTHER JEROME STEVENS AWARD
Abby Kambhampaty
BROTHER MUTIEN MARIE CREATIVE ARTS AWARD
Music – William Raines
Drama – Emilee Edick
Art – Corinne Kleiner
COMMUNITY SERVICE AWARD
McKenna Dalton, Karsen DiNapoli, Kate Jancyzk,
Joseph Rizzo, Rosalie Smithers, Daniel Thorpe, Xavier Wilson
BROTHER BASILIAN O'CONNELL AWARD
Anna Toole
BISHOP HARRISON AWARD
In Memory of Margaret Owen by her children Richard, Dennis, Maureen
Michael Heyboer          Sophia Silver
BISHOP JOSEPH O'KEEFE AWARD
Tyler Roueche               Juliana Sommers
DeFRANCISCO FAMILY AWARD
 Benito Vlassis    Caroline Dougherty
LA SALLE MEDAL
In Memory of Mr. Joseph J. Sindoni & Mrs. Angela M. Sindoni
Joseph Rizzo      Kennedy Gregory
UNITED STATES MILITARY APPOINTMENT
David Kenney
Darien Tompkins
NATIONAL MERIT COMMENDED STUDENTS
Rachel Farella, Abigail Greenfield, Michael Heyboer,
Thomas Homik, Abby Kambhampaty, Rena Steele, Darien Tompkins