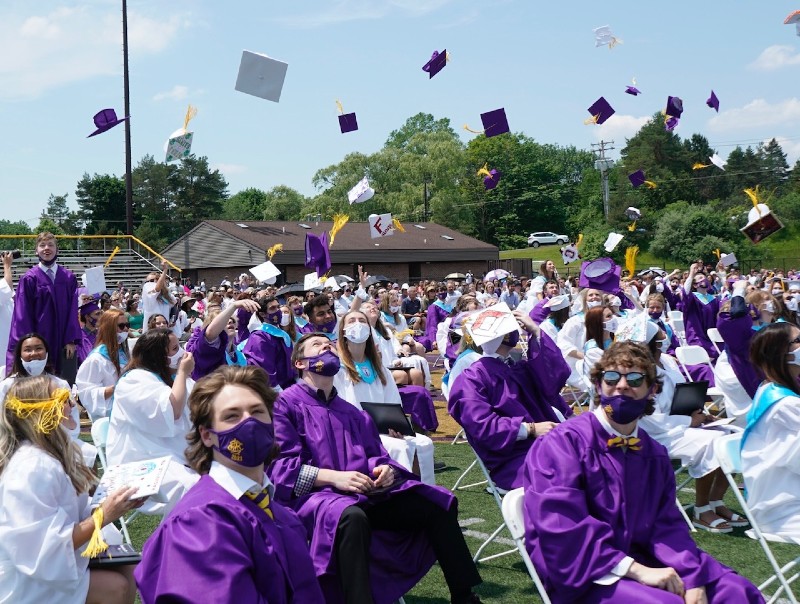 One hundred and forty-six students received their diplomas today on a beautiful sunny day at Alibrandi Stadium.  The ceremonies for the Class of 2021 included the presentation of several academic and service awards and diplomas. The Classes of 1970 and 1971, celebrating their jubilee reunion, were also in attendance.
Some notes about the Class of 2021:
The Valedictorian of this year's class is Rena Steele, the daughter of Jeffrey and Rachel Steele of Cazenovia. Steele will attend the University of Notre Dame, and will study Computer Science. The Salutatorian is Rachel Farella, the daughter of John Farella and Barbara Panko of Baldwinsville. Farella will attend Baylor University and study Biology.
Seven students in the class are National Merit Commended Students, including: Rachel Farella, Abigail Greenfield, Michael Heyboer, Thomas Homik, Abby Kambhampaty, Rena Steele and Darien Tompkins.
Two students-David Kenney and Darien Tompkins will be attending the United States Air Force Academy. Two students will be attending Ivy League Schools-Abby Kambhampaty (Dartmouth University) and Anyas Goeman (Cornell University). Eighty percent of this year's class will be attending a private school, including 27 percent at Catholic Colleges.
For over 20 years, 100 percent of all CBA graduating classes who applied to four-year schools have been accepted
The average SAT score is 1050. Members of the Class of 2021 on average scored above 1200.
Five students in the class will be participating in Division I athletics including: Chris Adornato (Fairfield University, lacrosse); Brackton Bowler (Johns Hopkins, lacrosse); Anne Kilmartin (Holy Cross, golf); Bella Roberson (Villanova University, lacrosse); and Benito Vlassis (Colgate University, tennis).
Twenty members of this year's class have a parent who attended CBA.
Members of the Class of 2021 were offered over 35 million in merit scholarship
Check back for more photos and award winners.