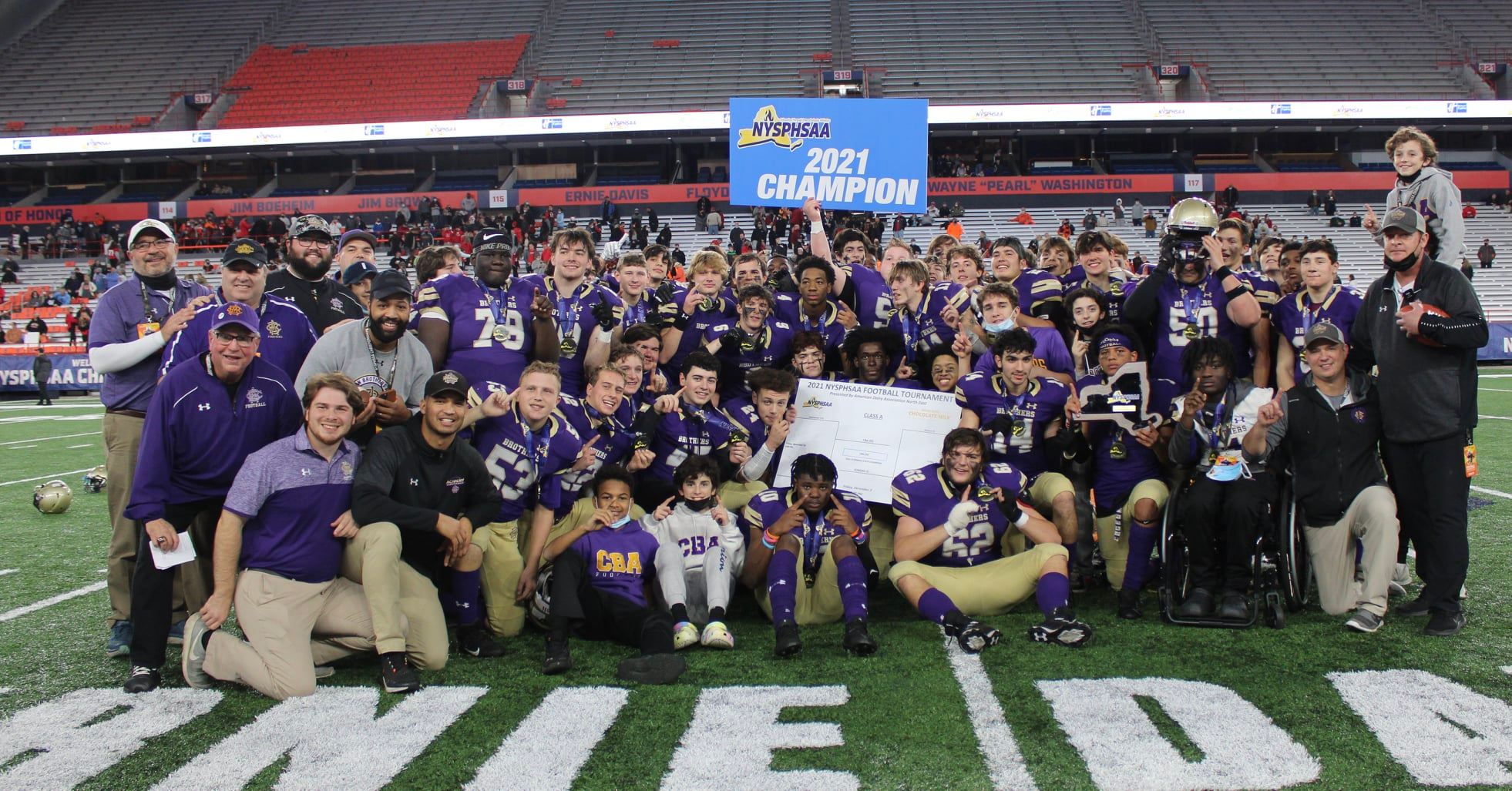 The clock refused to strike midnight for the CBA football team. On Friday, Dec. 3, the Brothers capped off their Cinderella season defeating No. 2 State ranked and previously unbeaten Somers 32-31 to capture the Class A New York State Title at the Carrier Dome.
The Dome was filled with a sea of purple and gold as the Brothers, who finished 9-3, and ranked No. 1 in the State, won their first State Title since 2004.
"It's a wonderful group of young men led by a really special group of seniors and a fantastic coaching staff," President Matt Keough shared. "I'm also proud of our entire student body. They packed the stands each week, not to just watch football, but to be a part of a community. It's a football win and a school win."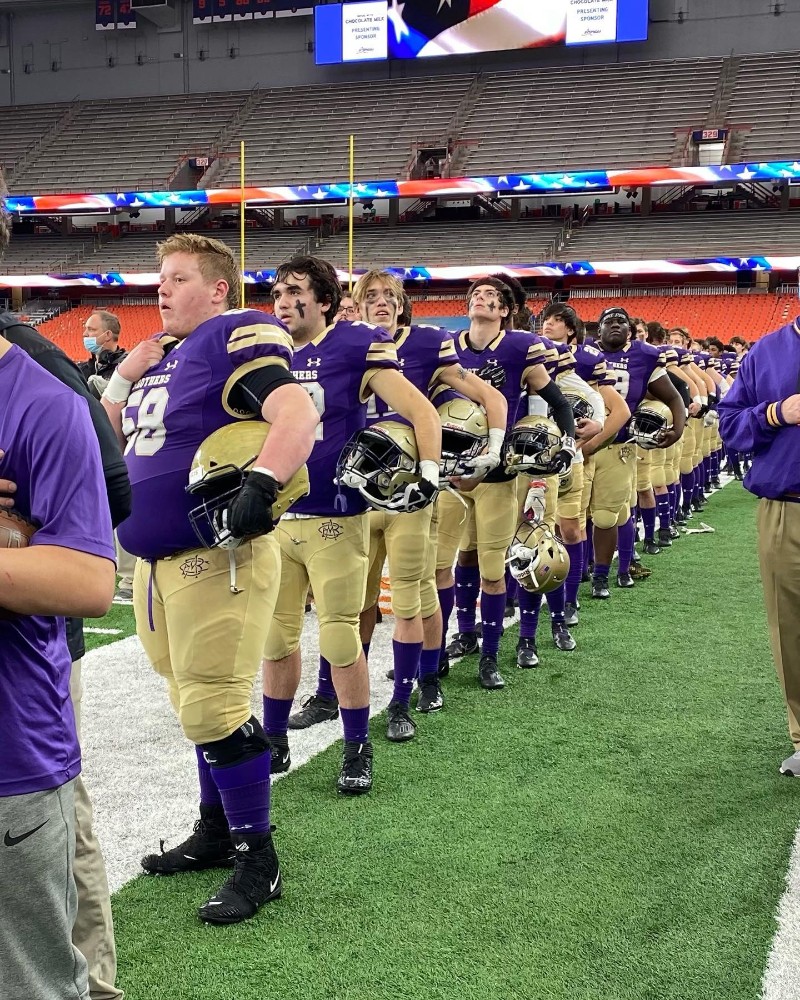 Members of the senior class front row (l-r): Mike Wolniak, Joe Kosty, Gage Schortemeier, Alex Smith, Anthony Picciano, Enzo Kassab, Jake Germain, Dan Anderson. Back row (l-r): Tyler McCarthy, Joey Poore, Owen Demetros, Evan Brown, Kieran Williamson, Nate Smith. 
Sophomore Jason Brunson put the exclamation point on the victory picking off a two-point conversion attempt with just 1:19 left in the game to preserve the win. 
Junior quarterback Jordan Rae threw three touchdown passes-including a 55-yard completion to junior Amari Pitts; a 36-yard pass to senior Dan Anderson and a 40-yard pass to Brunson. Anderson also scored on a one-yard run.  Rae completed 27-of-39 passes for 376 yards. Pitts hauled in six passes for 114 yards and Syair Torrence caught four passes for 72 yards.
"I'm so proud of this team. I love these guys," sixth year head coach Casey Brown said. "These guys talked about winning the chip when they were on junior varsity. They believed and achieved. I'm so happy for the team, the coaching staff and the entire CBA community."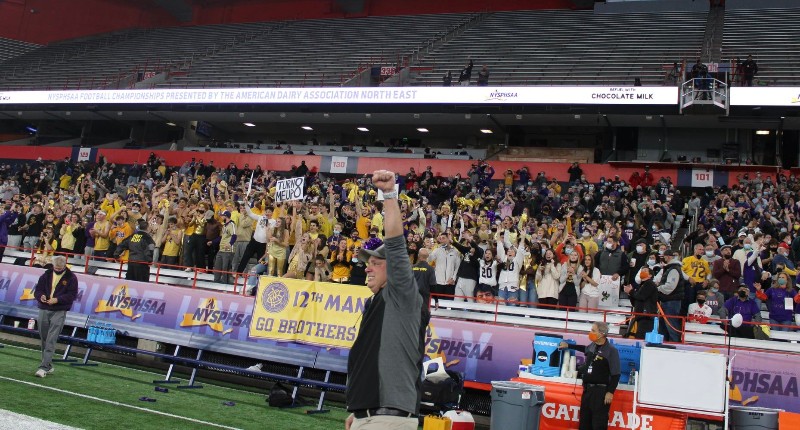 An ecstatic Brian Bruno '95, assistant coach for the Brothers.
After finishing the regular season with a 3-3 record including three straight losses, CBA was a No. 6 seed heading into Sectionals. Playing the role of underdog throughout the postseason, the Brothers defied the odds and rolled past Whitesboro 20-12; No. 2 seed Fayetteville-Manlius 22-12 and upset No. 1 seed and previously undefeated Indian River, 61-26 to claim the Sectional Title.
The first stop on the road to the State Title was Vestal where the Brothers blanked Union Endicott 42-0. The following week on a snowy and windy Friday night at Cicero North Syracuse High School, CBA rallied from an 18-8 deficit to defeat No. 2 State ranked and undefeated Jamestown 20-18 and punched their ticket to the Carrier Dome and the big dance.
And that big dance had Cinderella wearing purple!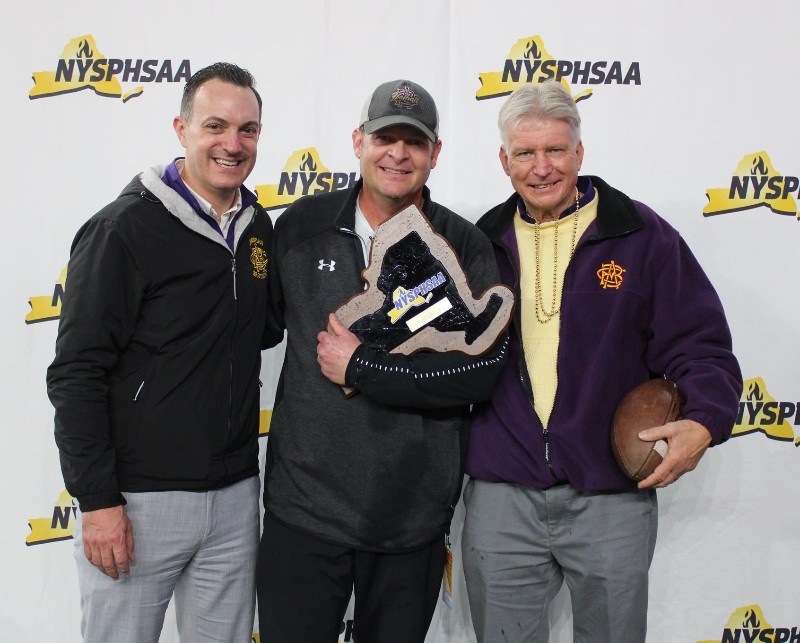 President Matt Keough, head coach Casey Brown and Director of Athletics, Buddy Wleklinski.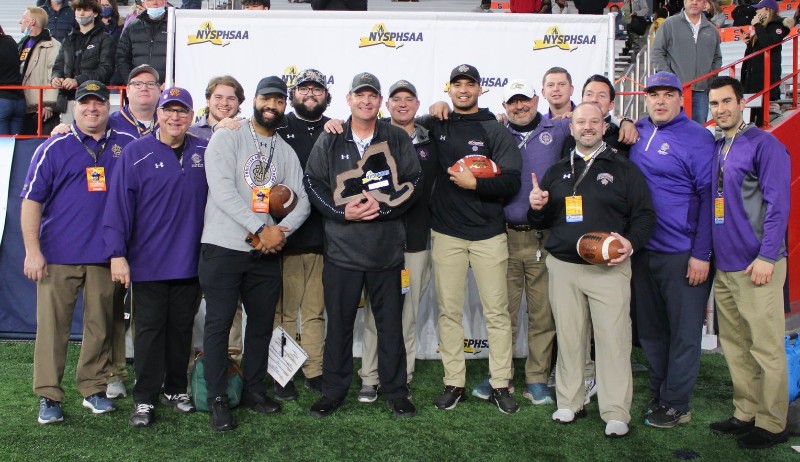 The CBA Coaching Staff (l-r): Jeff Merola, Kevin Moore, Jim Giufre, CJ Carbone '17, Bruce Williams '05, Kyle Robinson '11, head coach Casey Brown, Brian Bruno '95, Gideon Dixon '15, Bob Battaglia '76, Scott Cotter, Leo Tallarico, Mike Johnson, Leo Massaro '91, Mike Cusano '99.
For Additional Photos, visit our Facebook page at: https://www.facebook.com/cbasyracuse
Brothers In The News:
Game Recap-Syracuse.com: https://www.syracuse.com/highschoolsports/2021/12/cba-football-caps-cinderella-run-to-state-class-a-title-with-32-31-win-over-somers.html
Story on Sophomore Wideout Syair Torrence-Syracuse.com: https://www.syracuse.com/orangefootball/2021/12/cba-star-syracuse-recruit-syair-torrence-makes-himself-at-home-in-the-carrier-dome-in-state-title-win.html
More Game Recap & Photos-Syracuse.com: https://www.syracuse.com/highschoolsports/2021/12/from-500-to-class-a-state-champs-it-just-doesnt-feel-real-for-cba-football.html
Story on Junior Quarterback Jordan Rae-Syracuse.com: https://www.syracuse.com/highschoolsports/2021/12/cny-athlete-spotlight-cba-quarterback-jordan-rae-video.html
Game Recap-9WSYR: https://www.localsyr.com/sports/high-school-sports/cba-wins-state-football-championship/
Game Recap-Spectrum News: https://spectrumlocalnews.com/nys/central-ny/high-school-sports/2021/12/03/brothers-cap-cinderella-run-with-state-title
Story on Senior Dan Anderson-Spectrum News: https://spectrumlocalnews.com/nys/central-ny/news/2021/12/02/anderson-has-answered-the-call-for-cba-all-season