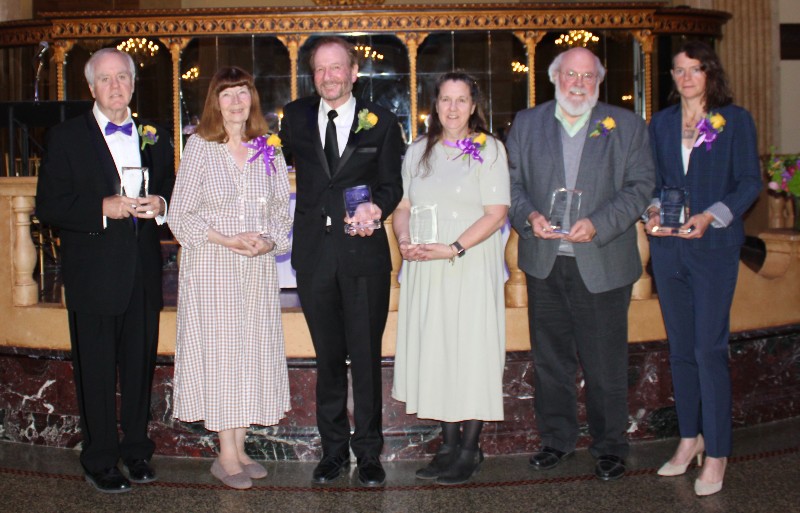 Pictured (l-r): Jack Morrison, Diana Johnson (accepting on behalf of her husband, Dave), Ed Sayles, Judy Ann Doherty (accepting on behalf of her cousin, Dr. Zack), Ed Riley, Lindsey Martin. Missing from photo Monsignor Fahey. 
Approximately 100 family members, friends, alumni and CBA students attended the fifth installation of the Christian Brothers Academy Distinguished Alumni Awards on Saturday, Nov. 5 at Marriott Syracuse Downtown.
The award recognizes CBA graduates who have made significant contributions to society; and whose accomplishments, affiliations and careers have honored the legacy of excellence at CBA. The Distinguished Alumni Award is presented bi-annually, alternating with the Lasallian Athletic Hall of Fame Award.
The 2022 Class includes:
Monsignor Charles Fahey '51
Msgr. Charles "Chuck" Fahey was an honor roll student and co-captain of the basketball team during his time at CBA. Following graduation, he received his Bachelor of Arts degree at St. Andrews Seminary, and his Master's Degree in Social Work at St. Bernard's Seminary and Catholic University.
Msgr. Fahey is a priest in the Roman Catholic Diocese of Syracuse and Marie Ward Doty Professor of Aging Studies, Emeritus, at Fordham University. As assistant director and later director of Catholic Charities in the Diocese of Syracuse, Msgr. Fahey helped open five diocesan nursing homes and created the Christopher Community, a nonprofit organization affiliated with Catholic Charities that developed specialized housing for the elderly and disabled.
Msgr. Fahey was a charter member of the Federal Council on Aging and served during the administrations of Presidents Richard Nixon, Gerald Ford, and Jimmy Carter. He chaired that group as well as the National Council on Aging, the American Society of Aging, the American Association of Homes and Services for the Aging and Catholic Charities USA.
Msgr. Fahey has served as Program Officer of the Milbank Memorial Fund. He is a fellow of the Institute of Medicine of the National Academy of Science, the Gerontological Society of America, the National Academy for Social Insurance, and the New York Academy of Medicine.
He is the recipient of five honorary degrees, including Syracuse University, Le Moyne College, St. Barnards Seminary, Douville, St. Thomas Fredrickson, CA and NB. In addition, he is the recent recipient of the Catholic Charities House of Providence Award, the Catholic Church USA "Vision Award," and the Catholic Health   Association Lifetime Achievement Award.
Following his retirement, he has assisted at several parishes in the Syracuse area.
Msgr. Fahey lives at the Nottingham in Syracuse.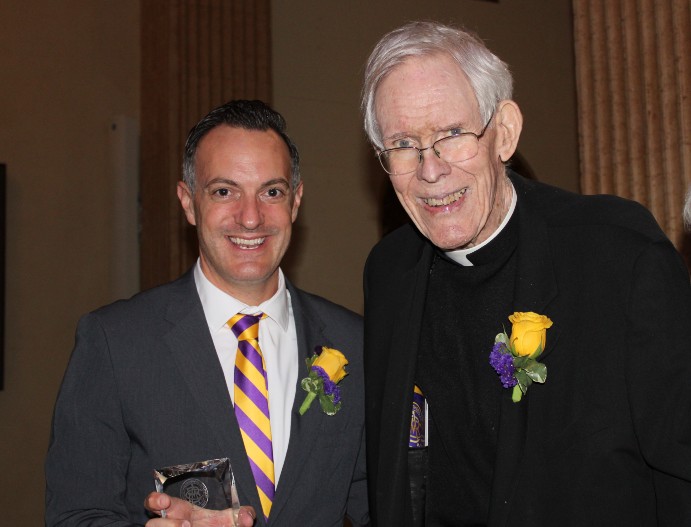 President Matt Keough and Msgr. Fahey
Dr. Matthew Marion Zack '63 
Dr. Matthew Marion Zack was the valedictorian of his class at CBA. He attended Canisius College (1967), where he earned a Bachelor of Science degree in Biology and an M.D. at the State University of New York at Syracuse (1971). He trained in internal medicine at the Hospital of the University of Pennsylvania (1971-1974) and earned an M.P.H. at the University of California School of Public Health, Berkeley (1978). He joined the Epidemic Intelligence Service, the Center for Disease Control and Prevention (CDC) training program for medical detectives, in 1974 and worked at CDC for 47 years until his death.
At CDC, Dr. Zack was not only one of the agency's foremost authorities on medicine, epidemiology, biostatistics and statistical programming, he often served as a consultant to other Department of Health and Human Service agencies, including the National Institutes of Health, the Food and Drug Administration, Healthy People initiatives, other national agencies (e.g., Veterans Administration), state agencies (e.g., Georgia Department of Aging Services) and to external groups such as the Karolinska Institute and Uppsala University (Sweden), and the United Way.
Dr. Zack  played a pivotal role in developing the CDC's National Center for Environmental Health (NCEH), the National Center for Chronic Disease Prevention and Health Promotion, Cancer Research Programs, Aging Studies, Epilepsy Programs, and Health Related Quality of Life Programs. In 2009, he was recognized with the NCCDPHP Lifetime Scientific Achievement Award.
He  had an impressive publication record, having over 12,200 citations and 194 articles and documents published, some appearing in the New England Journal of Medicine, Journal of the American Medical Association, the American Journal of Public Health, and National Geographic Magazine.  He published seminal studies in environmental epidemiology, including those on the effects of toxins such as DDT, PCB's, lead, and arsenic.  He also studied the effects of 1950's nuclear testing and Agent Orange exposure, as well as the chemical exposures of Love Canal (NY).  He further investigated and reported on the use of contaminated cooking oil in Spain.
Dr. Zack passed away on July 31, 2021.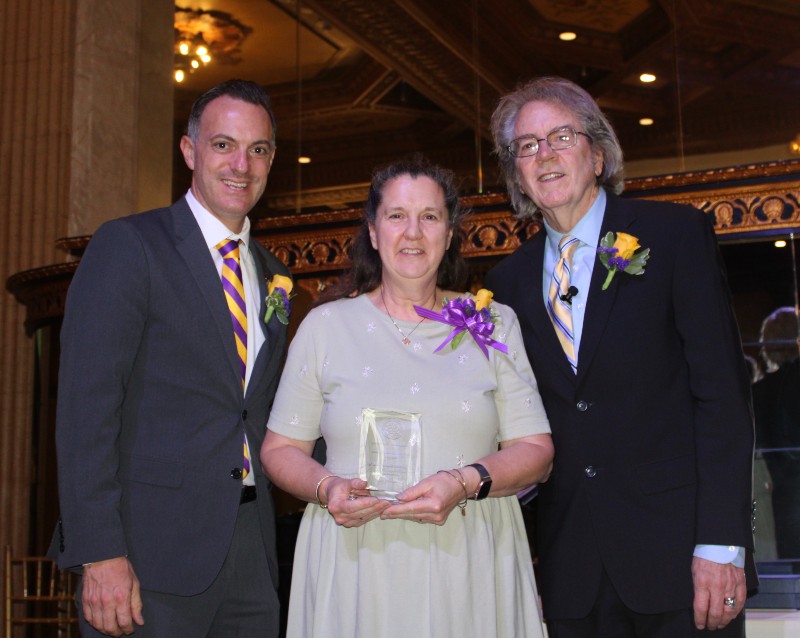 President Matt Keough, Judy Ann Doherty (accepting on behalf of her cousin Dr. Zack) and presenter Bob Halligan '71.
David Johnson '70
David Johnson, "Dave" to his friends, was the son of Wayne and Sara Johnson of Onondaga Hill. It was upon his mother's wish that he attended CBA.
In addition to academic courses, Johnson enjoyed music classes and had fond memories of participating in the musical "Bye Bye Birdie". He developed many lasting friendships at CBA; Ed Harley, Bob Halligan, Mark Reed, Mark Riley and Don Johnson, among them. After graduation, he went on to study at Le Moyne College.
Johnson served on the Syracuse Fire Department for 35 years. He worked his way up the department, gaining promotions due to the work he did and the tremendous respect he gained from his brothers and sisters in the department.  Johnson served as Liaison for SFD with the 911 call center, District Chief, and then as the Deputy Chief.  Following the 9/11 attacks, he received the New York State Liberty Award for heroic service from the State of New York.  He went with a contingent of SFD personnel to help the FDNY after the attacks.  In 2007, he was recognized by the SFD with the Hamilton White "Brotherhood" Award. This award is bestowed to a citizen who advances the brotherhood of firefighters by his unselfish devotion to the cause.
Johnson's heart for children and the unborn led him to volunteer with New Hope Family Services, a pregnancy resource center and a New York State authorized adoption agency. He served on their Board of Directors for 35 years and was recognized in 2014 with the "Faithful Service Award".
Johnson and his wife, Diana promoted adoption and worked to help expectant mothers with material necessities and counseling to make good choices for themselves and their babies. Johnson was the proud father of 17 children, 14 of which were adopted. Children: Beverly, Rebecca, Tim, Sarah, Rani, Mark, Rachel, Alysia, Dan, Ben, Hannah, Michaela, Sam, David, Grace, Andy, and Joel (deceased).
Johnson battled a long illness of Primary Progressive Aphasia and passed away on Sept. 3, 2020.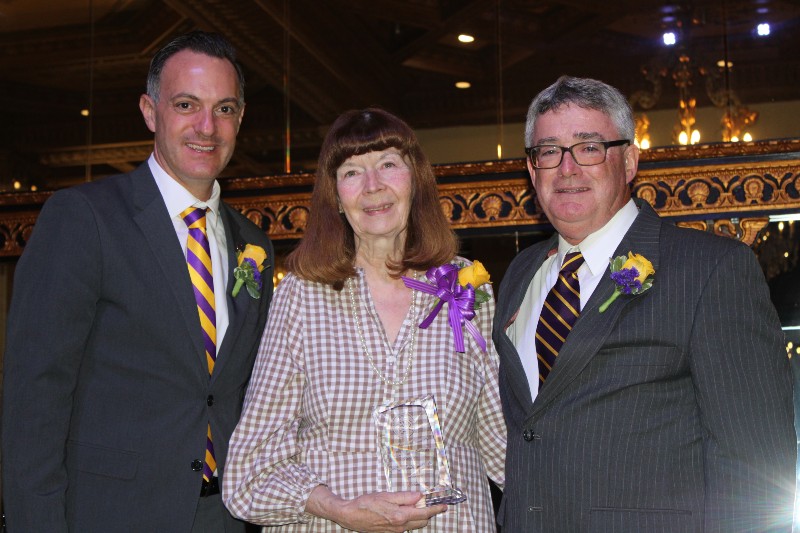 President Matt Keough, Diana Johnson (accepting on behalf of her husband, Dave), and presenter Kevin Conroy. 
John "Jack" Morrison '70
John "Jack" Morrison graduated 8th grade in 1966 from Our Lady of Solace Grammar School on Syracuse's east side. Morrison chose CBA because most of his friends were going there, and it seemed the best route to college.
During his four years at CBA, he participated in junior varsity football and track. At graduation, he received the Powelson Business Institute Award for having the highest grade-point average for a CBA graduate intending to major in business. 
Morrison graduated from Purdue University with a Bachelor of Science in Industrial Management and a minor in Industrial Engineering. In 1999, he received an International Master's in Practicing Management (IMPM) Diploma from INSEAD University in Fontainebleau, France. IMPM is a corporate-sponsored two-year master's program aimed at further developing executives working or intending to work internationally.
In 1974, Morrison joined Alcoa (Aluminum Company of America) in Indiana as an Industrial Engineer (IE). In 1977, he accepted an offer from Consolidated Aluminum in Ohio as a Senior IE, which lead to IE Supervision in Louisiana. Morrison and his wife, Mary, wanted to move back to Central New York to be close to their ailing parents. In 1981, he accepted an offer from Alcan (Aluminum Company of Canada) at their largest sheet rolling mill in Oswego.
Morrison progressed with Alcan in various production control, manufacturing, and sales roles.  In 1992, he was named Oswego Plant Manager. He helped lead the plant through automation and organizational upgrades to be one the largest producers of aluminum sheets used in beverage cans. Alcan Oswego was and still is the largest non-union employer in CNY.
In 1996, Morrison transferred to Alcan's regional headquarters in Cleveland to eventually become President of Sheet Products, North America and Asia. There, he was responsible for sales, its ten operations, and 5,000 employees in USA (5), Canada, Korea (2), Malaysia, and Thailand. This included majority ownership and management of Logan Aluminum, recently featured on FOX NATION TV show American Built. In 2000, Morrison moved to Seoul, Korea, to focus exclusively on Alcan Asia and its two newly acquired Korean operations. By 2006, with limited capital investment, extensive process changes, and support from North American technologists and operators, the Korean JV had doubled output to be the largest sheet producer in Asia. Morrison became well-known in Asia, and in 2007, he joined a Chinese privately owned company, Xiashun Holdings, as CEO, which included leadership of a $500 million expansion. Xiashun quickly became the global leader in light gauge foil production (6 micron) used in Packaging.
Morrison retired in 2012 after working 38 years in the aluminum business. He and Mary had a wonderful 12 years in Asia and wanted to "pay it forward" and help some Asian students afford a CBA education. Since 2013, they worked closely with CBA to build an Asian Student Scholarship Fund designed, and now fully funded, to pay 60% of tuition and fees for three incoming Grade 7 Asian students for their six-years at CBA through perpetuity.
The Morrisons reside in Bonita Springs, FL.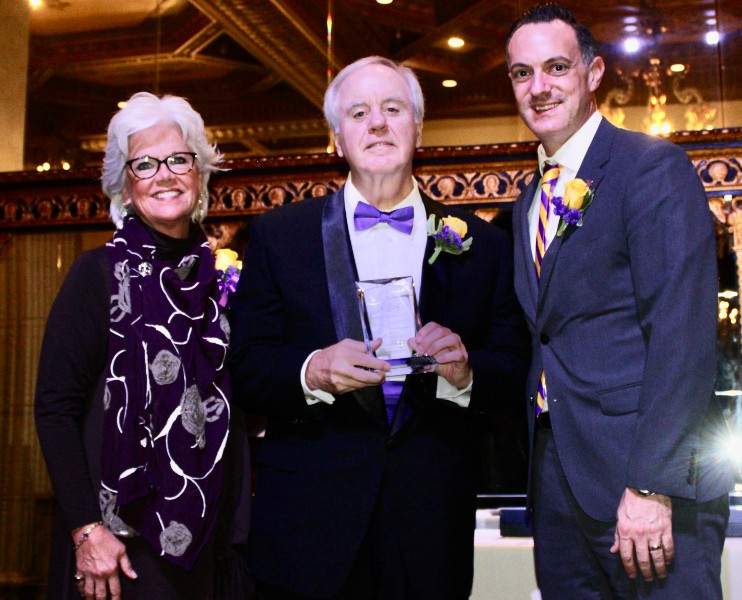 Patti Callahan, presenter, Jack Morrison, and President Matt Keough
Edward Sayles '70
Ed Sayles credits CBA teacher John Gensler when he reflects on his chosen profession. "He knew me better than I knew myself and subtlety guided me toward the right career path." During his time at CBA, Sayles received 15 Debate and Public Speaking Awards and was selected for the PBS Television Show "Crisis Congo."
Some of his fondest memories at CBA included reading the Epistle for the Senior Mass, leading a Pep Rally with his good friend Tom Eichler, almost setting himself on fire in the Chemistry Lab during   orientation, riding the bus "down city" after school with his classmates and almost any day in Mr. Riordan's Class.
After graduating from CBA, Sayles received his Bachelor of Arts, Cum Laude from SUNY Cortland in Speech Communication/History and his Master of Arts from Bowling Green State University in Directing/Rhetoric.
Sayles is the founder and lead consultant of Creative Communications & Development (CC&D), a consulting firm primarily focusing on providing grant writing services for both Not-for-Profit and          commercial businesses. Throughout his career, Sayles has successfully written grants, conducted individual giving drives, and directed capital campaigns which have brought in over $8 million. Since starting CC&D in 2015, he has raised over $1.8 million from private, governmental sources.
During his career, he has received formal commendations for his public service from the US House of Representatives, the NYS Senate, the NYS Assembly, and the Cayuga County Legislature. He served for two terms on the New York State Council on the Arts Theater Panel and is listed in Who's Who in America, Who's Who in the American Theatre, and Panelists for the New York State Council on the Arts. Sayles was presented with the Albert Nelson Lifetime Achievement Award and is a member of the History (Phi Alpha Theta) and Theatre (Alpha Psi Omega) National Honor Societies.
Sayles has been a Speech Communication Instructor at SUNY Cortland, Producing Director Trotwood Circle Theatre, and spent many years as Producing Director of the REV Theatre (formerly Merry-Go-Round Playhouse).
He and his wife, Kathleen, live in Auburn. They have three children, Austin, Celeste, and Sarah.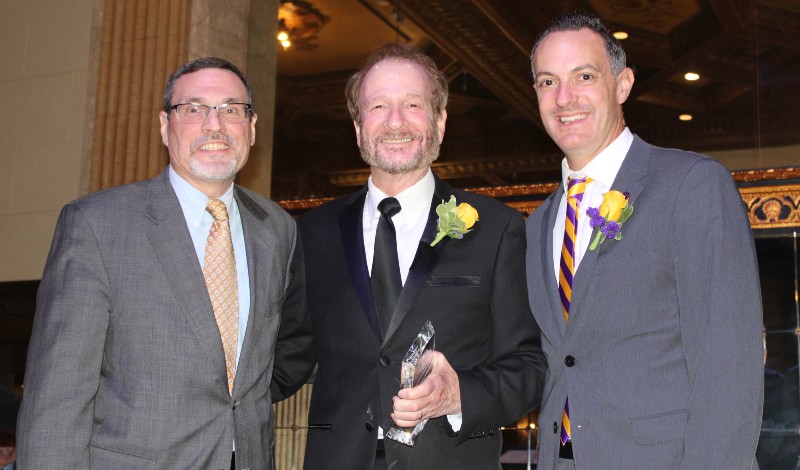 Faculty member and presenter David Roache, Ed Sayles, and President Matt Keough.
Edward Riley '72
Ed Riley's family has called Syracuse home for four generations. His father Eugene graduated from CBA in 1948 and after Ed was born, the family moved from Syracuse to Camillus. Riley recalls taking the bus from the 'far reaches' of the western suburbs to CBA each day, enjoying conversations with schoolmates Fletcher, La Casse, and De Kay.
At CBA, he played football and lacrosse and was involved in student government and the Art club. He was a talented artist, and during his teen years, he painted and sold oil landscapes. Riley shared that CBA's emphasis on academic basics, along with his involvement with the Art Club poised him for success in his further education and career. He attended Onondaga Community College and studied architecture technology. He then went to Syracuse University, where he received his bachelor's degree in architecture.
Riley owned an architectural firm in Syracuse. He also spent about six years working for Pioneer Companies, a locally-based developer. 
Riley has spent most of his career in the hotel and resort business, including nine years with the Pyramid Hotel Group. He oversaw restoring distressed hotels from coast to coast and beyond. With Pyramid, Riley oversaw the $60 million restoration of the Arizona Biltmore in Phoenix, the $35 million restoration of the Claremont Hotel in San Francisco, and the $30 million restoration of the Fairfax Hotel on Embassy Row in Washington, D.C.
In 2013, when he was traveling about 300,000 miles a year as senior vice president of project management, he brought the deteriorating Hotel Syracuse—with broken pipes, a leaking roof, and crumbling plaster—to his company's attention. He founded Hotel Syracuse Restoration, LLC and later Brine Wells Development, LLC. He then executed the purchase, restoration, and renovation of the historic Hotel Syracuse, which reopened as the Marriott Syracuse Downtown in 2016.
Riley, and his wife, Janet, live in Syracuse. They have three children, Kevin, Colleen, and Michael.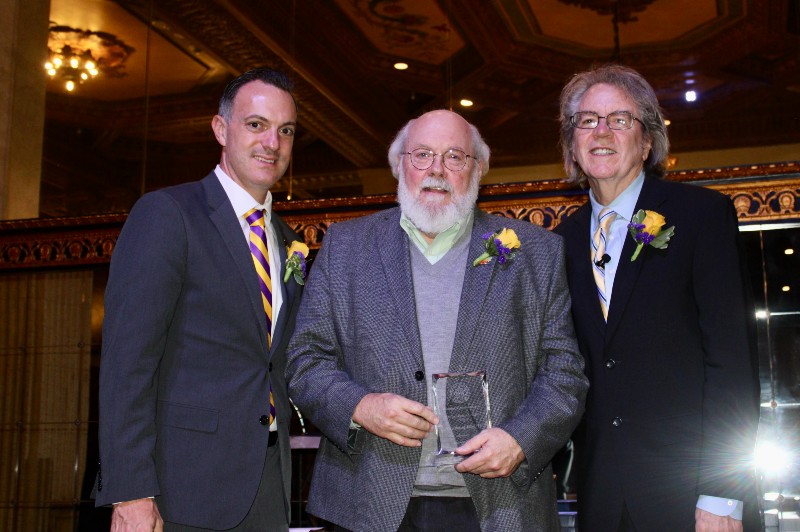 President Matt Keough, Ed Riley, and presenter Bob Halligan '71
Lindsey Martin '99
Lindsey Martin grew up in the Strathmore neighborhood in the City of Syracuse. Before starting seventh grade at CBA, she attended John T. Roberts elementary school through sixth grade. During her time at Roberts, she was identified as "gifted and talented" allowing her to attend special sessions weekly. Said her father, Tony, "it was our desire that she be able to continue on that track and CBA was the choice not only for that reason but also because her education there would be values based." Some of Martin's fondest memories at CBA are her great friendships and her after school time in various clubs especially the Writer's Guild and French club
Martin was inducted into the National Honor Society during her time at CBA. She was on the golf team and the cross country and track teams. She received her Bachelor of Arts in International Relations at Hamilton College, and a Bachelor of Science in Nursing, a Master of Science in Nursing, and Adult Gerontology Acute Care Nurse Practitioner Degree from Northeastern University; and a Doctor of Nursing Practice from MGH Institute of Health Professions.
Martin is the Director of Global Disaster Response and Humanitarian Action at Mass General and is trained as a critical care Nurse Practitioner focusing on surgical critical care and trauma. Martin began her career as a Nurse Practitioner at University of Maryland Medical Center-Shock Trauma. She then joined the Blake 12 surgical ICU at Mass General in 2015. Prior to assuming the director role at Mass General, Martin was the team leader on more than 20 humanitarian deployments. She also participated in and led multiple training exercises and disaster simulations with MGH and its partner organizations. In addition, Martin has worked as a public health clinical faculty at Northeastern University and Albany Medical Center in the Cardiovascular Intensive Care Unit.
Martin has a deep passion for health equity and social justice.  She has volunteered in clinics from Cape Town, South Africa to Chelsea, MA. to help increase access care to underserved groups.
Martin just completed her third deployment to Ukraine. A runner, she ran the Chicago Marathon recently and finished in three hours and 12 minutes. She was the 412th woman finisher of a total of over 18,000.
Martin lives in Cambridge, MA with her wife, Maya, their foster child, Skylher and Maya's children, Boaz and Saul.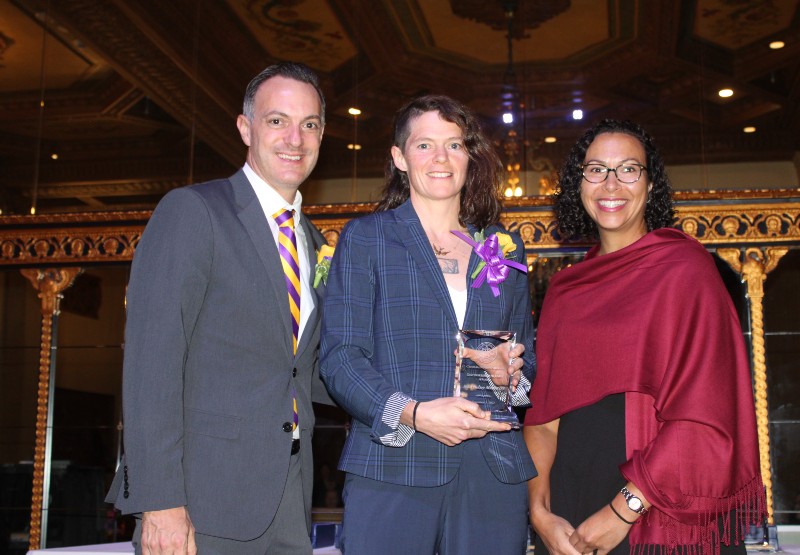 President Matt Keough, Lindsey Martin, and presenter Dr. Chandra Ivey '91.
Co-chairs for the event were retired faculty member Kevin Conroy and retired Director of Advancement, Patti Callahan. Bob Halligan '71 was the Master of Ceremonies.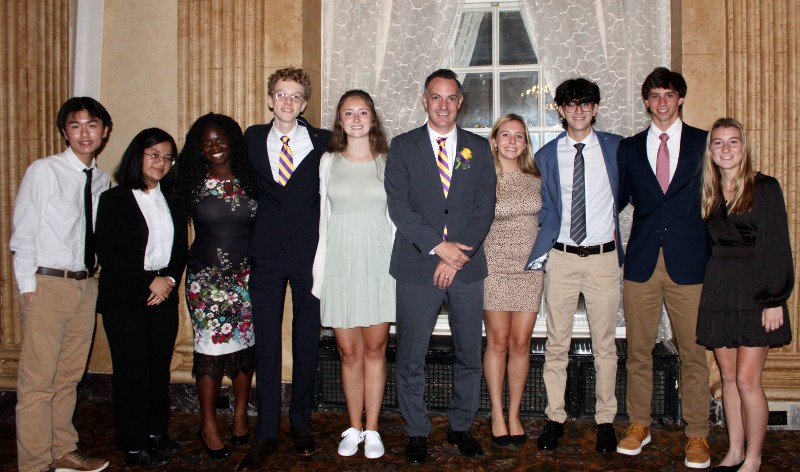 Students with President Matt Keough at the dinner included (l-r): Jeremiah Ho, Nguyen Bui, Harriet Dweh, Finn Doyle, Claire Hulslander, Ava Ascenzo, Razi Marshall, John Engle, and Sydney Vaughn.