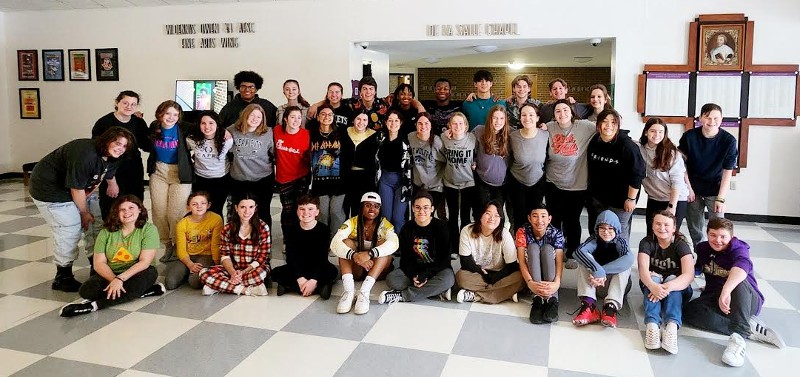 Seventy-three students in grades 7-12 will perform in this year's spring musical, Sister Act at the Palace Theater at 7:00 p.m. on Friday, March 24 and Saturday, March 25.
Sister Act (based on the 1992 film) follows disco diva Deloris Van Cartier (Karly Brown-Glavin), who witnesses a murder and gets placed into protective custody in the one place. Officer Eddie Souther (Matthew Craybas) knows she would never be found: in a convent! Disguised as a nun, she finds herself at odds with the rigid nun lifestyle and the uptight Mother Superior (Gigi Homik). Using her unique disco moves and singing talent to inspire the choir, she breathes new life into the church and community, but in doing so, blows her cover. Soon, the gang is giving chase, only to find themselves up against Deloris and the power of her newly found sisterhood.
Tickets for Sister Act are available for $12 through the CBA main office through March 24th, please or email Robert Michael Calimlim, the musicial's director at:  [email protected].
Cast: Deloris Van Cartier (Karly Brown-Glavin); Mother Superior (Gigi Homik); Sister Mary Robert (Lily Barrett); Sister Mary Patrick (Belle Polanco); Sister Mary Lazarus (Riley Rickman); Monsignor O'Hara (Luke DeLorenzo); Curtis Jackson (Jaden Sistrunk); Eddie Souther (Matthew Craybas); TJ (Jackson Finn); Joey (Finn Wheeler); Pablo (Brandon Libertone); Sister Mary Martin-of-Tours (Sofia Santa Ines); Sister Mary Theresa (Sofia Finn); Michelle (Cyann Stephens); Tina (Maria Canzano); 
Ernie (Kaden Clark)
Featured Nuns: Marielle Emmanuel, Ceci Lombardi, Riley Carroll, Janie Kang, Lily Brown, Elena Chiodi, Mia Schimpff, Anna Pedone, Johanna Hanson
Featured Roles: Bar Patrons (Gia Lay, Erin Nardella); Pool Player (Dash Page); Waitress (Claire Hulslander); Cab Driver (Everett Gilchrist); Newscaster (Spencer Perrigo)
Ensemble: Sophia Bayardi, Lily Beale-Gleason, Georgia Brown, Sarah Clark, Clara DeFilippis,Josie DePalma, Jackie Duteau, Nicholas Esposito, Jack Griffith, Kathryn Heyboer, Stephanie Kelly, Logan Klaben, India Roopnarine, Lincoln Sweeney, Sean Warnock, Gavin Wilson
Stage Crew: Emilia Colabello, Ava Goeman, Mark Khairallah, Aeryn Hood, Abby Uryniak, Aidan Brewster, Aubrey Colabello, Liv Duester, Maddie Fellows, Claire Hood, Ava Myers, Sarah Parsons, Zoe Seppi, Carly Tousley, Addison Wilson, Will Radford, Kyle Evans, Nico Lay, Leona Nguyen, Abby Sturgen, Andy Truong
Pit Band: Emily Jones, Josh Culeton, Joey Sayles, Donovan Nguyen, Dempsey Horan
Adults: Mr. Robert Calimlim (Director); Ms. Chiara Corey (Producer); Mrs. Erin Moore (Musical Director); Mrs. Christina Ciereck (Choreography); Mr. Tim Davis (Pit Conductor); 
Pit Band Members: Mr. Bob Caraher, Mr. Steve Garraffo, Ms. Sarah Garraffo