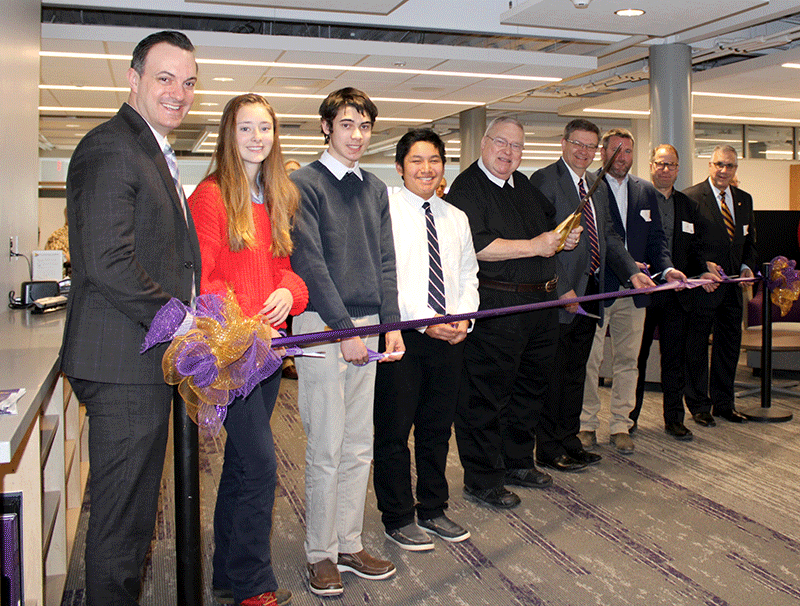 Pictured (l-r): Principal Matt Keough, Claire Hulslander '23, Ben Mustico '21, Josh Culeton '24, President Brother Joseph Jozwiak, John O'Connor '85, Chairman of the Board of Trustees; Charlie Breur '01, representing Hueber Bruer Construction; Matt Klucznik, representing Architectural Design by QPK; John Marshall, AFSC '67, Campaign Co-Chair.
Trustees, alumni, students, faculty, staff and friends of CBA gathered on Wednesday for a ribbon cutting ceremony for the new Learning Commons.
The Learning Commons was part of CBA's Capital Campaign Our Mission, Their Future.
"We are gathered, once again, to celebrate another demarcation point reached for Our Mission, Their Future," President Brother Joseph Jozwiak said. "A couple of weeks ago, our students and faculty celebrated the grand opening of the Learning Commons, the Innovation Lab, and three new classrooms. It is incredibly gratifying to see so many of them making use of the new learning areas, the technology, and the many new opportunities presented here."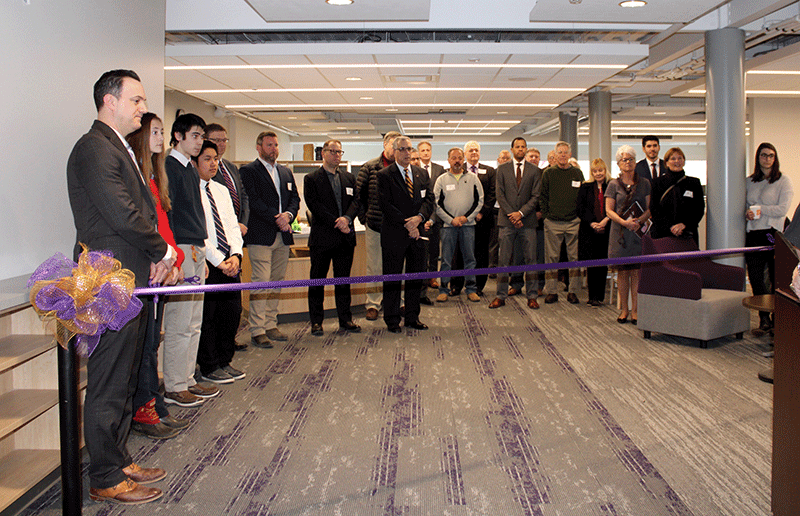 Features of the new learning commons…
Technology integration in the instructional areas featuring 40 Chromebooks for student usage, video and audio conferencing, and dual 83-inch presentation monitors
Collaborative work/study spaces with shareable presentation monitors at each station
Conference room for student use
Data driven book collection
Diverse seating options that meet the study needs and habits of all students
Reading and social space
Video and Audio production studio with a green screen
Extended hours from 7:15 AM – 6:00 PM, Monday through Thursday and 7:15 AM – 3:15 PM on Friday
"It is with great joy and thanksgiving to God and on behalf of the students entrusted to our care-those currently enrolled at the school and those who will grace our halls for decades to come-that we cut this ribbon and ceremoniously open this space," Brother Joseph said.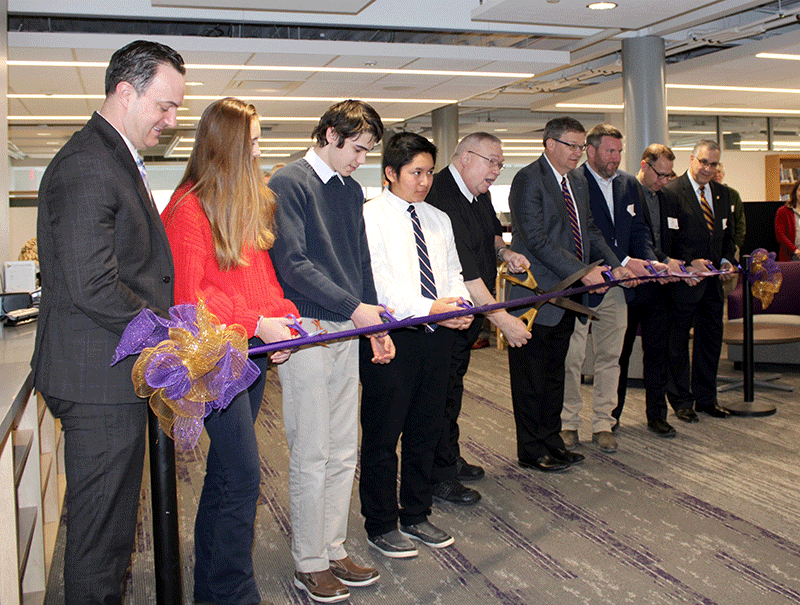 Channel 9 was recently at CBA to interview Principal Matt Keough and students:
https://www.localsyr.com/news/local-news/cba-opens-new-library-and-innovation-center/?fbclid=IwAR0mWv1CHxL9cftxl_GicqD_6YJhHFjE_2jY0RFUJgnVLOpLub02s9x0lX0
Junior Michael Burger gives a walking tour of the Learning Commons, which officially opened on Feb. 12: https://www.youtube.com/watch?v=dWOaz6O2Zms
For additional photos, like us on Facebook